@Echo Neon | Mar 22, 2023 | 10 minutes read | indoor lighting, hanging light, home decor
Having a LED neon sign is one thing, but knowing where to hang it is another. If you don't know where to hang your neon sign, you'll end up placing it in a bad position where it is covered, too far, or too bright.
At Echo Neon, our team of experts has helped thousands of homeowners all over the country to install their neon signs and we know just the perfect places to hang a sign indoors.
So, we have compiled a list of the best places to hang a neon sign in the home to make your decision easier and so you can get the best out of your neon wall light. Let's check them out. 
The Top 8 Trendy Spots To Hang a Neon Sign In The Home
Here are trendy spots to hang a neon sign in your house:
Above The Sofa (In The Living Room)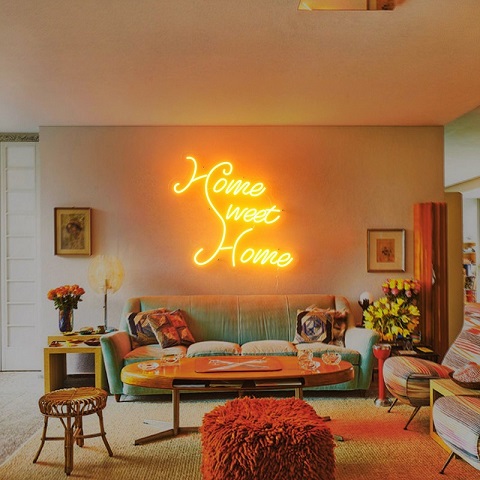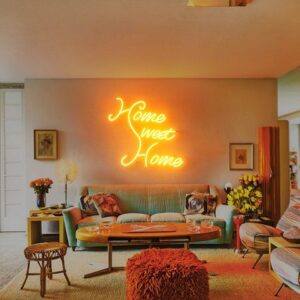 The wall above your sofa is a perfect place to hang a neon sign. This is because it is visible and not obstructed by any object. You can go for a neon wall light that complements the colour of your living room decor or one that matches the colour of the sofa. 
This will also give your living room an alternative light source to spice up your game nights, movie dates, and house parties. A neon wall light above the sofa can quickly turn into a statement piece that will leave your guests in awe. 
By The Entertainment/TV Unit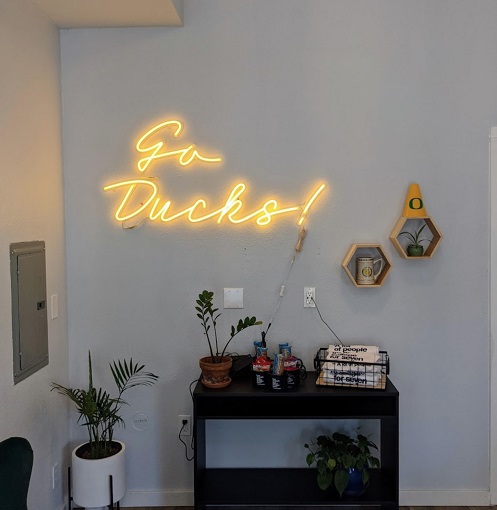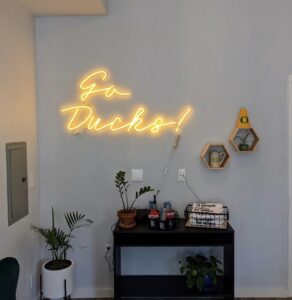 Your LED neon sign can be installed by the entertainment unit to light up the space and bring it to life. You can go for a football neon sign to show support for your favourite team or player. This will make game days more exciting. You can also go for a neon sign inspired by your best TV show, actor, game, or movie. The design and light display of the neon sign would make your space look and feel more inviting.
In The Bedroom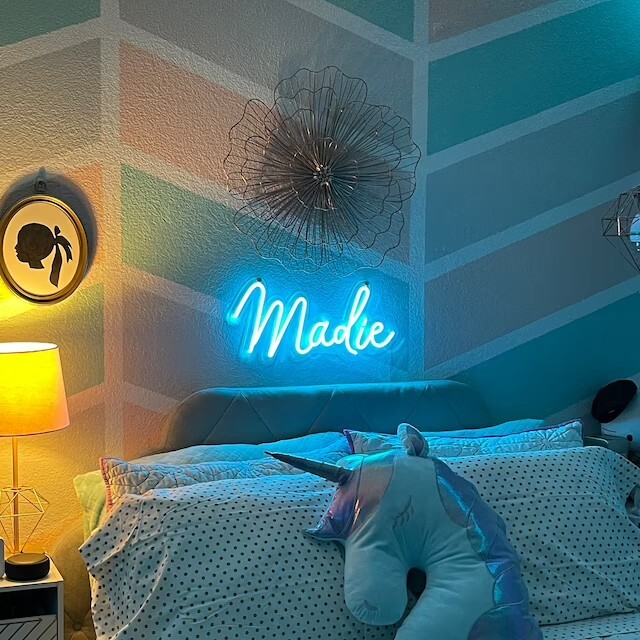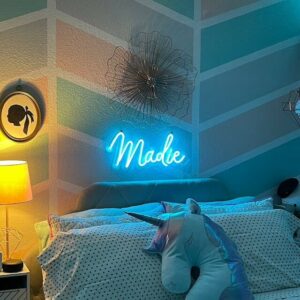 Your bedroom is another great spot for a neon sign especially if you have a custom neon sign. Custom neon signs are designed specially for you based on your preferred design and your bedroom is the perfect place to hang one. The sign could be inspired by a quote or mantra that gets your day started or an image that inspires you.
LED neon lights are safe and they don't generate noise or heat in the bedroom so you have nothing to worry about. You can hang the sign above your bed or on the wall to illuminate your room. We have tons of neon signs for bedrooms at Echo Neon. 
By The Home Bar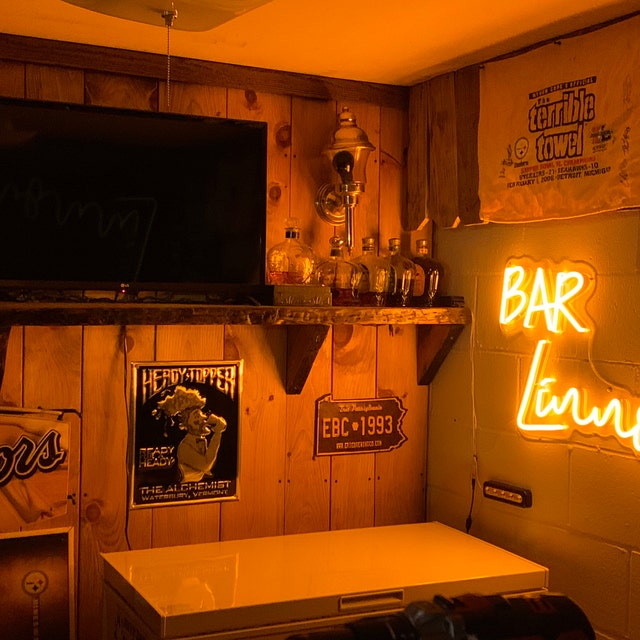 Do you have a home bar? Then decorate it with a home bar neon sign. Having a LED neon sign on the wall can transform your home bar into an inviting pub for your friends and family to kick back and relax with a glass of their favourite drinks.
You can get all the thrill and comfort of a regular bar without leaving your home. The lights from the neon sign will also bounce off of the wine glasses and bottles to create a beautiful light display that will thrill your guests and make your bar the perfect hangout spot.
In Your Study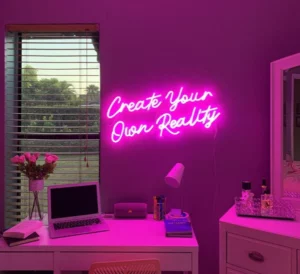 A neon sign would also look perfect in your home library, study, or office. It's important to have a safe space to channel your energy and keep you focused on work and a neon sign can help with this. You can hang a neon sign with your best quote on the wall to keep you motivated. 
If you are a content creator or vlogger, the lights from a LED neon sign or lune floor lamp can make your office more beautiful for your videos. The design of the neon sign can also inspire some creativity for your next video or project. 
In The Kid's Room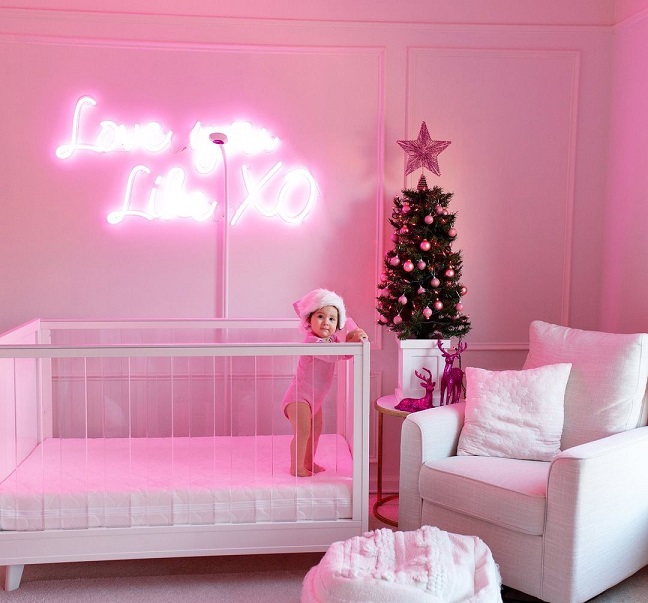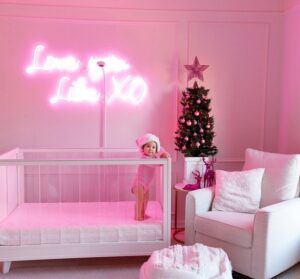 Your kids will love a neon sign in their room. There are tons of kid-friendly neon signs that you can use in your kids' rooms and you can even customise a neon sign to spell out their nicknames or display their favourite cartoon characters, movies, and superheroes. Kids love to have fun and there is nothing more fun than a neon sign. 
In The Kitchen/Dining Area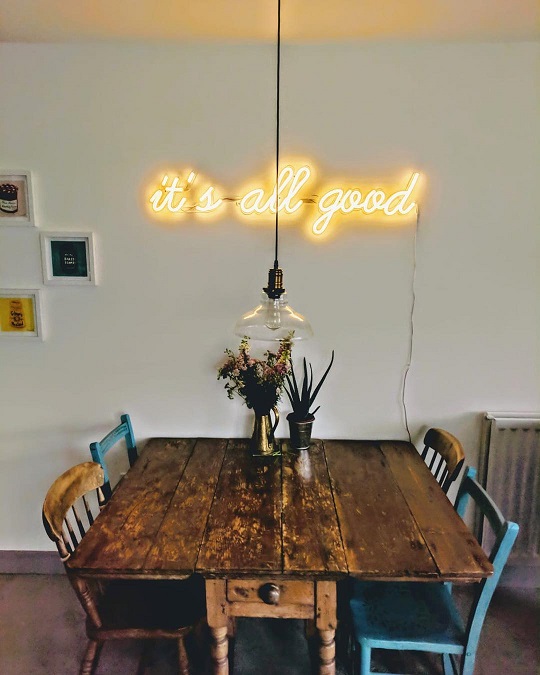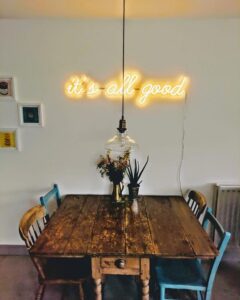 Add some spice to your kitchen walls with a kitchen neon sign. A neon wall light in your kitchen will decorate your space and provide an alternative light source to give your kitchen a unique glow. 
You can also hang your neon sign by your dining area to give you the vibe of a classy restaurant. Dinner time with the family will be more fun with a neon light in the background. 
In The Hallway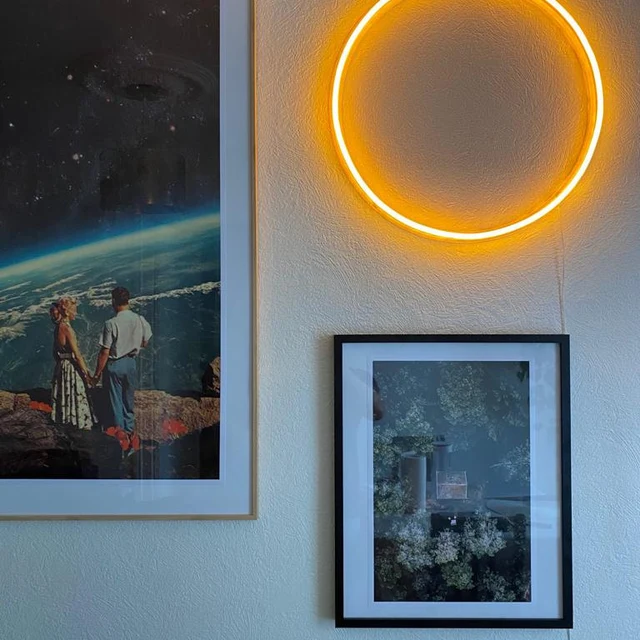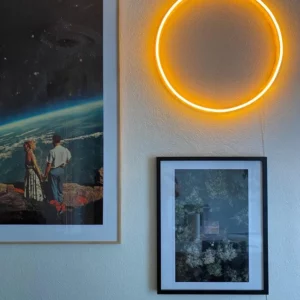 A neon wall light in your hallway will give you an eye-catching design to spice up your pictures and videos. You can arrange a series of colourful neon signs in the hallway to create an amazing light show or hang different text-based neon signs to decorate your home. 
During the holiday season, your hallway can be decked with amazing neon wall lights to set the mood and keep the festivities going. 
Where Shouldn't You Hang a Neon Sign In The Home?
Behind Objects
Neon signs are beautiful designs that should be seen and admired. You shouldn't hang a neon sign behind a shelf or door as this will obstruct the glow and colour display of the neon sign. You should always ensure the position of the neon sign can be seen clearly. 
Above The Fireplace
The heat from your fireplace can melt the wires of your neon sign or ignite the backboard if the neon sign is too close. If you must hang a neon sign above the fireplace, ensure to hang it high so it is not affected by the heat from the fireplace. 
In Your Bathroom
Water and electricity aren't a good match so don't hang a neon sign in the bathroom. The wiring of the neon sign can be affected by moisture and steam that are produced in the bathroom leading to damages and in some cases, electrocution.
Are LED Neon Signs Safe Inside Your Home?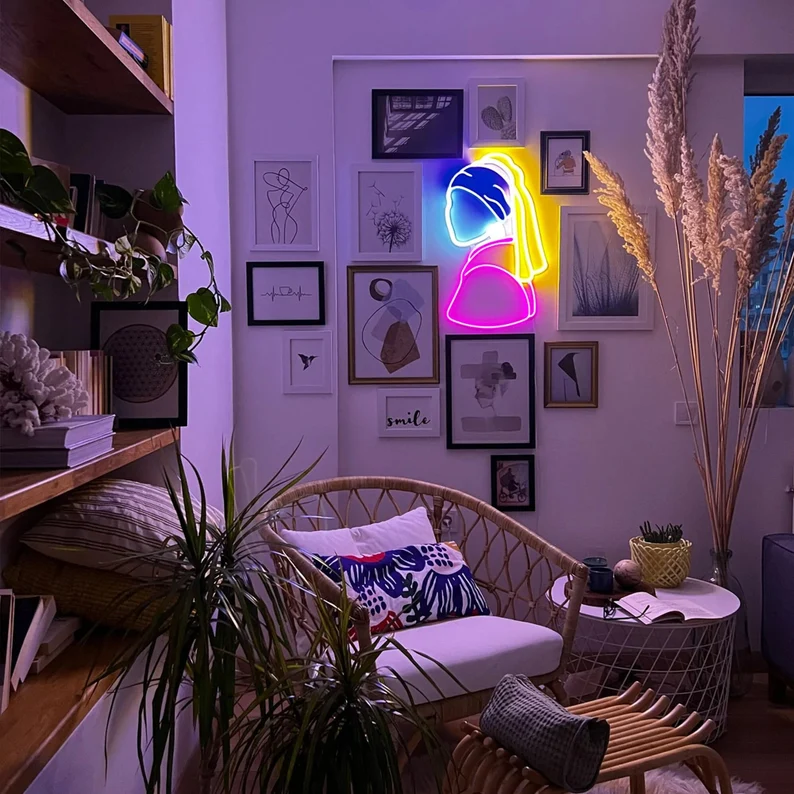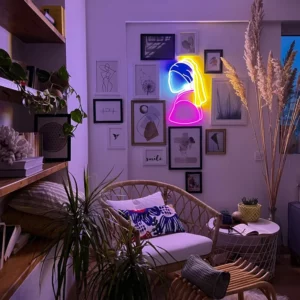 LED neon signs are safe in your home. The neon signs are designed from eco-friendly materials like plastic tubes, LED bulbs, wood, and acrylic backboards that pose no risk inside your house. The LED lights are also placed inside LED neon tubes to protect them from the curious hands of kids.
LED neon signs don't generate heat or cause noise pollution so be rest assured nothing can go wrong. Instead of neon, argon, or mercury gas, we use energy-efficient LED bulbs to light up the neon signs, so there is no risk of exposure to toxins or gas leaks from the neon sign. 
The LED bulbs also consume far less energy than your average light bulbs, so not only are LED neon signs safe inside your home, but they also don't spike up your electric bills.  
Final Words
In summary, LED neon signs are safe to use inside your home and they are the perfect decor item style and bring life to your home. However, it's important to know where the sign will go before purchasing it. 
The spots revealed in this post are all amazing locations to hang a neon sign to get the best out of it. So, shop now at Echo neon to get started and give your home that extra touch of decor and class that you crave.