@Echo Neon | Oct 7, 2022 | 10 minutes read | Multicolor, Wall light, In-trend design
There is something quite special about LED neon colors that makes you feel calm and relaxed when they come on. Multicolored neon signs bring to life a soothing ambiance that make you feel comfortable and at ease either in your private space or a general setting.
You can go for a naturalistic blend of green, yellow, and orange neon colors to give off a laid back vibe in your space or pick a contemporary mix of red and blue neon signs to make your space look trendy.

Customize a Colorful Experience
Thanks to an improved RGB display and RGB remote control, you can enjoy a nice colorful experience in your space from the comfort of your seat or transform the ambiance in your bedroom without leaving the bed. There are dozens of color display modes you can choose from to complement the theme of your space and make you feel at home.
You can also build a unique multicolored neon sign to make your space stand out using the neon colors that you want. A multicolored neon sign designed by yourself would not just beautify your walls but it would infuse your space with a confident and creative outlook.
Blue Neon Sign
A blue neon sign will look amazing in any setting and would especially complement a blue-themed event. In many parts of the world, blue represents royalty, hope, peace, and serenity, so a blue neon sign will create a blissful and positive atmosphere in your space.
Our blue LED neon signs are drawn from humorous or motivational language, as well as images of sausage dogs, hot mugs of coffee, and floating astronauts among others. Each sign is specially designed to beautify your space and give you a cool in-trend vibe wherever you place it.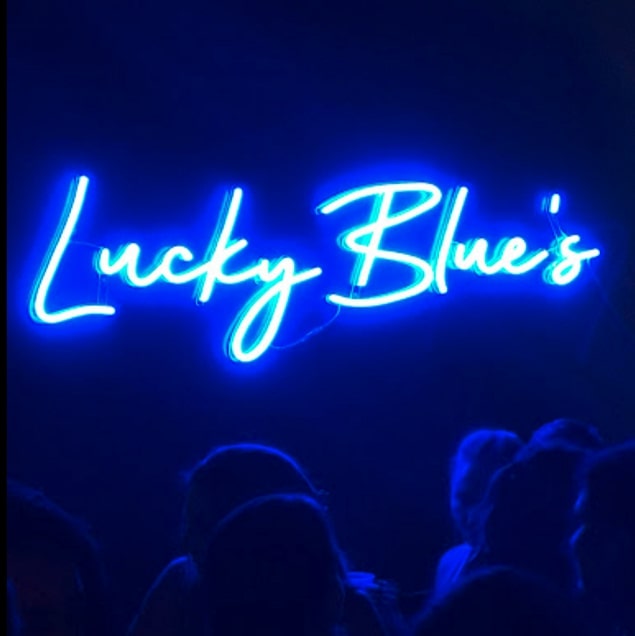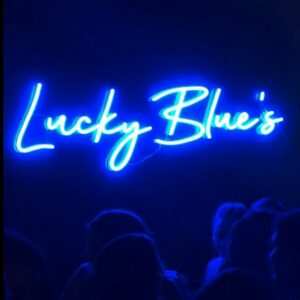 Applications of Blue Neon Sign
In The Bar For Your Party
There is no better place to install a cool blue neon sign than a bar, cafe, or pub. The cool lighting from a blue sign will electrify the room and make your space look chic for night hangouts and parties. You can use a blue neon sign by the Photo Booth, DJ section, or dance floor to keep the party going. You can even customise a blue neon sign as a wedding, birthday, holiday, or anniversary party decoration.
In Your Home
Blue neon signs are also a perfect fit for your home. These signs bring an alternative light source to your space that reflects on other decor items, room furniture, and wall art.  Blue neon signs can be used in the kid's room, movie room, or games area to build excitement and make the space lively.
You can also tap into the inspirational power of motivational blue neon signs. These signs display famous quotes and mantras in different shades of blue to keep you inspired and elevated even on tough days.
For Sporting Events
There are tons of sports inspired blue neon signs that would fit in perfectly for games night, match days, and other sporting events. Many of these blue neon signs display the colors and logos of famous sports teams that wear the color blue, making them ideal for sport programs and as a fantastic decor piece for a true fan of the sport.
Create a warm environment in your business space with blue neon signs
The cool and relaxing tone of blue neon signs makes them a cool way of welcoming guests to your business place. A blue neon sign that says "Welcome!" or "Come in" will make your customers feel relaxed, not to mention the aesthetic appeal it adds to your space too. Whether you run a restaurant, drink store, gift shop, light store, or signage shop, a blue neon sign will beautify your space and make it feel more inviting to potential customers.
In-Trend Blue Neon Signs For You
Looking for a blue neon sign to light up your space? Check out some of the best blue neon signs for homes and offices:
Dallas Cowboys Blue Neon Sign
NFL fans everywhere will appreciate this Dallas Cowboys blue neon sign, except you are a bird from the Philadelphia Eagles. The blue sport neon sign is a proud representation of the Texas football team and a cool sign to illuminate any corner in your home as a fan.
Blue Wall Neon Quote
This blue neon sign displays a quote; "you are free to be different" on the wall of your space to remind you that our differences make us who we are. The sign infuses your space with confidence to soar higher and remain true to yourself.
Blue Cartoon Neon Sign
Create a fun atmosphere in your kid's bedroom, game area, cinema, arcade, and toy store with this blue cartoon neon sign. The sign displays a blue mini robot on the wall of your space that is perfect for party decor and lighting.
Pink Neon Signs
There are different color options to pick from when choosing a neon sign but none radiates a joyful and exciting ambiance as well as pink neon signs. Pink neon signs offer a beautiful way to celebrate joyous occasions at home, in business, or public.
Pink is also a fun color, so using it in your space guarantees a fun and lively atmosphere for everyone. Our collection of pink signs span across cartoon pink neon signs to sweet and passionate neon lights, so you can always find the best fit for your space.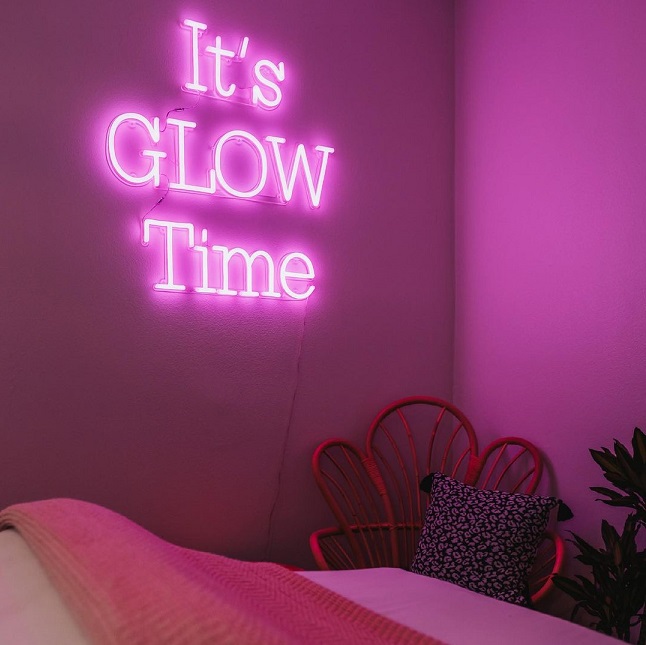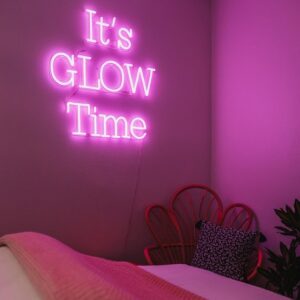 Placement Ideas and Spots For Pink Neon Signs
Pink Neon Signs For Fashion
Pink is a very fashionable and stylish color so it's bound to blend in naturally in a fashion setting. For shows and big reveals, you can light up the walkway and stage area with a pink neon sign that displays the name of the collection.
Pink Neon Signs For Business Advertising
There is something about the color pink that always grabs people's attention even in the midst of other colors. A custom pink neon sign designed for your business will promote brand awareness and advertising. The neon sign can be installed by the window, hung around the door, or suspended from the roof to advertise your services to potential customers.
Pink Neon Lights For Aesthetics and Beauty
Pink is no doubt one of the most beautiful colors out there and its scarcity makes it even more admirable. A pink neon sign on the wall of your space can transform a boring looking environment into an attractive setting for hangouts and some alone time.
Pink Neon Lights For Bars and Nightclubs
Do you own a nightclub or run a bar? If yes, your customers will love the electrifying radiance of a pink neon sign especially at night. A dim pink sign by the DJ booth or entrance of your bar will bring a fun, social, and exciting vibe all night long.
Pink Neon Signs For You
Check out some of the best pink neon signs to decorate your space:
Aloha Pink Neon Sign
Welcome guests, friends, and family to your home with a friendly Hawaiian pink signage. Aloha says Hello and it creates a warm welcoming vibe that will put a smile on people's face as they walk into your space.
There is No Place Like Home Pink Neon Sign
The "There is no place like home" pink sign is designed for not just your house but anywhere you genuinely feel at home. It radiates a homely and calming tone that makes you feel relaxed and at peace whenever you are at home.
Sleeping Angel Pink Neon sign
The sleeping angel pink neon sign is perfect for your bedroom and living room walls. The neon sign adds beauty and sweetness to your space, of course with a touch of pink glow.
Red Neon Sign
Red neon lights are the most well-known and frequently purchased of the several neon light hues available. You can go for a neon sign that glows a bright crimson, ruby, or burgundy red and if you wish, you can create a customized red neon sign. Red neon signs offer an impressive form of business advertising but their usefulness extends beyond the realm of marketing. Red neon lights are also a great addition to any party or home decor.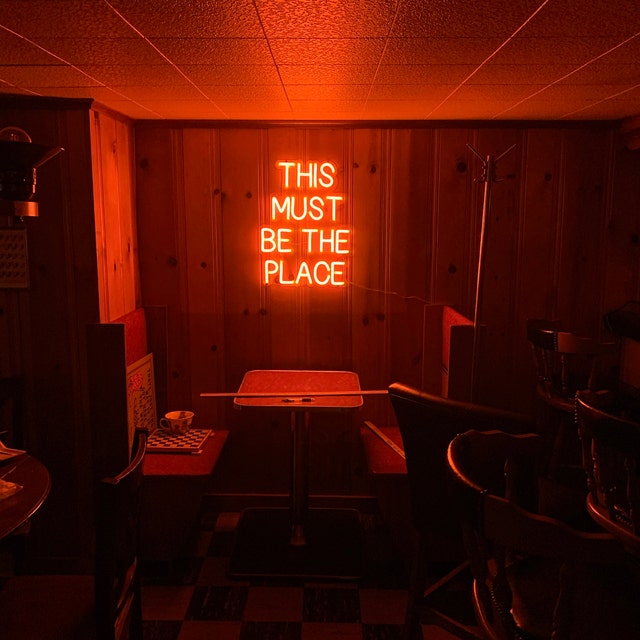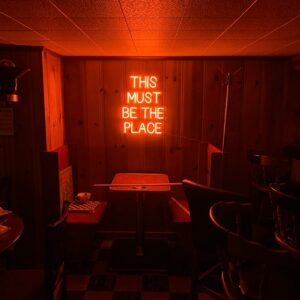 Cool Ways and Spots To Install a Red Neon Sign
Create a Romantic Atmosphere with a Red Neon Sign
Bring on the romance in grand fashion with a red neon sign. Red signifies love, sweetness, romance, and passion and there are dozens of romantic red neon signs for you. You can complement your picnic with a heart-shaped red neon sign or sweep your partner off of their feet with a "Love you" neon sign on your anniversary dinner.
Red Neon Signs For Bar and Nightclub Lighting
For many people, red signifies fun and excitement, so a red neon sign would look great in your nightclub or bar especially for ladies night, open-mic night, valentine's day party, and other cool events. The vibrant glow of a red neon sign will complement the music in your space and light up people's pictures and quirky videos in trendy fashion.
Red Neon Signs at Store Front
If you run a business or store, use the eye-catching effect of a red neon sign to attract people to your business. A red neon sign outside your store will put rest to the competition and create an enticing mood in your store, especially at night.
Red Neon sign as Gift
One of the most creative ways to use a red neon sign is to customize a unique one and present it as a gift. This is sure to blow the mind of the recipient and it is a gift you are sure no one else would think of. A custom red neon sign will make a sweet anniversary, birthday, and holiday gift.
Red Neon Sign Options For You
Find the best red neon signs for you:
Hearts Neon Sign
Check out this romantic red neon sign for your anniversary party, proposal, engagement and wedding ceremony. The neon sign displays nine different heart-shaped signs that would fit any romantic setting.
Cherry Red Neon Sign
Bring on a fun mood and illuminate your space with bright red cherries. This red cherry neon sign is perfect for your bar, nightclub, fruit store, man cave, and hangout cool spots that need a boost of fun and excitement.
Ho HO HO Xmas Neon Sign
This red neon sign is a celebration of the christmas spirit and a great decor item to light up your home and office for the festive season. Its hazy display of red lights and a cursive font design is sure to spread the Christmas cheer during the holidays.
Green Neon Signs
Green neon signs represent nature, wealth, well-being, and they have a soothing effect that can improve your mental, social, and physical well-being as well as alleviate stress and promote healing. This is why we have provided a wide collection of naturalistic and lovely green neon signs for you to choose from. These neon signs are inspired by kid-friendly designs, wall art, hand symbols, flora and fauna, and sports logos among others.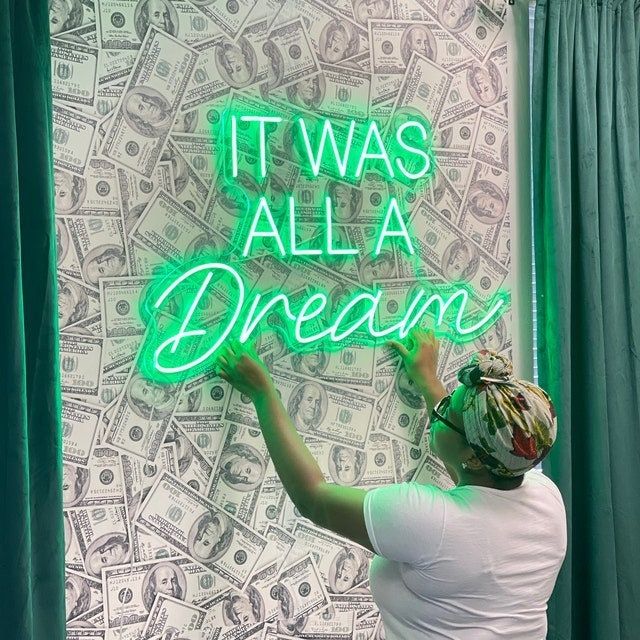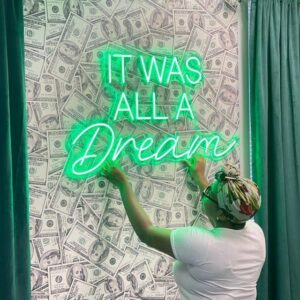 Where To Use Green Neon Signs
Green Neon Signs in Parks and Gardens
One of the best ways to use green neon signs in your space is to light up your garden. The cool glow of the green sign will blend in a natural environment and give your garden a modern outlook. A neon sign in your garden will also light up your environment, creating the perfect space to enjoy a nice picnic or relaxing evening stroll.
Green Neon Signs in Cinemas, Arcades, and Parties
We offer a host of green neon signs drawn from video games, fictional heroes, and famous movie characters like the Hulk and Green lantern. These neon signs would fit perfectly in a game room, arcade, or cinema. You can also use these neon signs in your kid's rooms or for their birthday party decor to build excitement and create a lively mood.
Green Neon Signs For Business
If you own a gift shop, flower or toy store, restaurant, grocery store, comic book shop, or run a video game rental, a cool green neon sign will fit nicely in any corner of your business place. The neon light will decorate your store and create a receptive mood for customers.
However, it's the animated display of our green neon signs that is sure to catch people's attention and bring them to your store.
Green Neon Signs For Your Home Lighting and Decor
Of course, a green neon sign will blend in your home nicely. Your bedroom, dining room, and kitchen are nice spots for a green neon sign inside your home. At night when you want to enjoy some me time or relax with the family, you can turn off all the lights in the room and leave the green sign on. The cool green effect will elevate the mood and match a game and movie night vibe.
Green Neon Signs For You
Discover an exclusive collection of green neon signs for your space:
Farmer's Market Green Neon Sign
This green neon sign is designed for grocery store owners, chefs, bakers, and other culinary experts. The neon sign can be used on your kitchen walls, outside your grocery store, or in your bakery to make the space stylish.
Avocado Neon Sign
Here is another neon sign perfect for your garden, kitchen, and restaurant decor. The avocado green neon sign displays a sliced avocado fruit on the wall of your space and is a cool sign to light up your food store and supermarket.
Palm Leaf Green Neon Sign
A palm leaf signifies tranquillity, victory, and peace and this green neon sign symbolizes all three. The neon sign displays a green palm leaf on your wall and brings a blissful and naturalistic vibe to your space.
White Neon Sign
White neon signs offer a simple yet elegant lighting that beautifies your space and provides a warm atmosphere to welcome guests and unwind. White's soft tone makes it one of the few natural neon sign colors, meaning it blends in any environment, decor theme, or occasion.
You can also go for an exclusive list of minimalist white signs and give your space an intriguing vibe. Each sign has a hidden meaning you can use to make a statement or personalise your space. Whether as a homely way of saying welcome, an advert item for your store, or a romantic signage for your dream wedding, white neon signs will get the job done.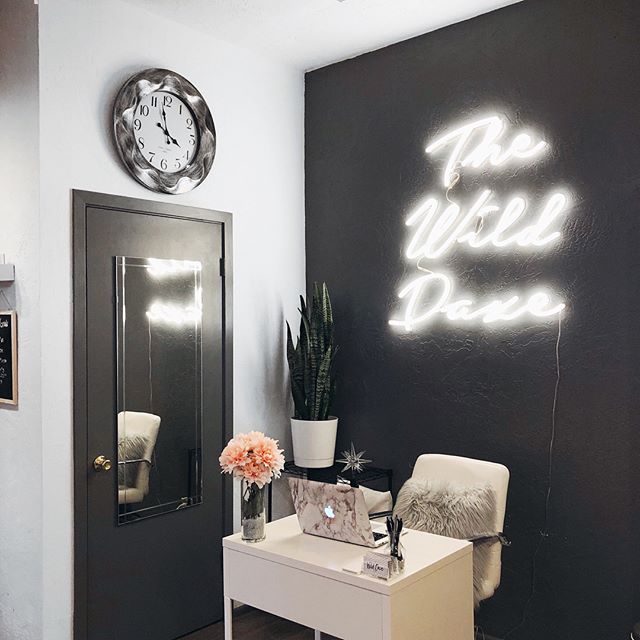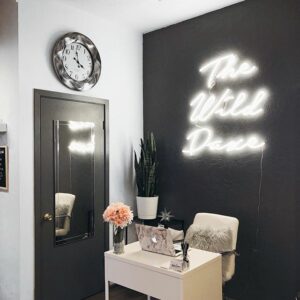 Using White Neon Signs To Light Up Your Space
White Neon Signs For Home Lighting
White neon signs offer an energy-efficient way to illuminate your home and are perfect for any room in your house that needs a warm tone and soft lighting. The ambient lighting of a white neon sign will blend in perfectly in your home's interior decor and make a statement piece in your home regardless of where you place it.
Customized White Neon Sign For Wedding Decor
Customized white neon signs make a beautiful and stylish decor piece fit to use for any type of wedding. You can customize the names of the couple, the year of the ceremony, or theme of the wedding to be lit using vibrant white lights. A custom wedding sign by the aisle or walkway will make the bride shine bright as she walks down to the altar and create the perfect wedding ambiance for you and your guests to enjoy all through the event.
Use White Neon Signs For a Minimalist Effect
Minimalist white neon signs are smaller, cute and have more detail, making them ideal to create an interesting vibe in your space. You'll find line art, hand gestures, vintage signs, face outlines, and other simple designs that would quiz your guests for a few seconds and put a smile on their faces when they figure out what the sign means. Minimalist white neon signs are also good conversation starters for your events.
White Neon Signs For Nightlife
White neon signs are best for nightlife enthusiasts and entrepreneurs looking to attract people and advertise their business. You'll find white neon signs in and around nightclubs, bars, diners, restaurants, motels, and other businesses that operate at night. The right white neon sign can even make your space a landmark location, making it easy to recommend and describe to others looking for a lively night experience.
White Neon Signs For You
Discover vibrant white neon signs for your space:
Moon Neon White Sign
Suspend this crescent moon white neon sign from the roof of your bedroom, living room, dining area, or study and enjoy the illuminative effect it adds to your space.
Just Married White Wedding Neon Light
This white wedding neon sign is designed for newly-weds looking for a unique way to express their love and wonderful union. The neon sign is a perfect fit for your wedding ceremony, honeymoon decor, and bedroom lighting.
Face Outline White Neon Sign
Try out this minimalist white neon sign for an interesting vibe in your space. Its dreamy color is perfect for dinner parties, engagements, and other special events. It also adds interesting detailing to your home decor.
Yellow Neon signs
The versatility of yellow neon signs sees them used in virtually all areas and fields including arts and entertainment for movies and music, sports, business advertisement, and so much more.
The color yellow symbolizes optimism, happiness, and hope. It's a happy color that is sure to stand out wherever you place it and can instantly brighten any room with its warm friendly tone. Whether you are looking to create a tranquil environment in your home or an energetic vibe in your party, you can't go wrong with a yellow neon sign.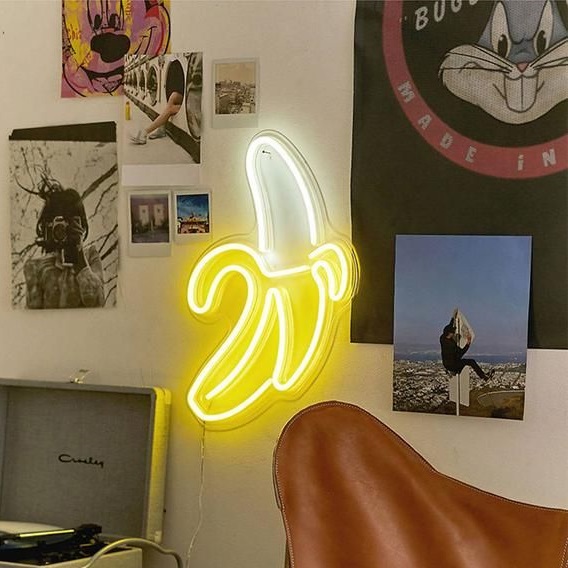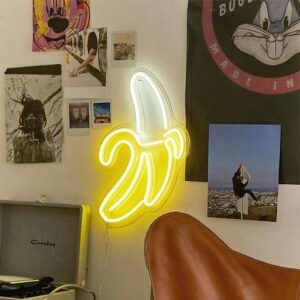 Applications of Yellow Neon Signs
Light Up Your Party and Event With Yellow Neon Signs
The energetic vibe of a yellow neon sign offers a trendy way to bring life to your party and special events. You can install a yellow neon sign by the entrance or hallway to welcome people to your party and set the mood for a fun evening. You can also hang a custom yellow neon sign by the photo booth so its vibrant yellow glow will light up people's pictures and videos.
Welcome Guests With Yellow Neon Signs
The warm tone and soothing vibe associated with a yellow neon sign makes it a nice way to welcome people to your space, especially during the holidays. For entrepreneurs and business owners, yellow neon signs add a captivating visual element inside and outside your store that will attract potential customers and make your space look inviting.
Decorate Your Kid's Bedroom With Yellow Signs
There are tons of kid-friendly yellow neon signs inspired by comic book characters, fictional heroes, and cartoons. These neon signs offer a beautiful and creative way of lighting up your kid's bedroom. Your child, niece, or nephew will love a custom yellow neon sign drawn from their favorite cartoon character, movie, or video game icon.
Find The Best Yellow Neon Sign For You
Check out vibrant yellow neon signs to light up and decorate your space:
My Happy Place Yellow Neon Sign
This yellow neon sign brings a peaceful and homely vibe to your space. It's a perfect fit for your living room aesthetics, bedroom walls, man cave lighting, and anywhere else that makes you happy. Its warm tone will lift your mood and make you feel at peace.
Yellow Crown Neon Sign
Give your home decor a taste of royalty with the yellow crown neon sign. This neon sign can light up your home, office, or bedroom and it fits perfectly as a party decor.
Summer Yellow Neon Sign
Summer is a period to have fun, explore new hobbies, and go on adventures with friends and family. You can now create the perfect ambiance to enjoy your favorite things with some of your favorite people using this yellow summer neon sign.
Purple Neon Sign
There is something quite special about the color purple that creates a sense of admiration and excitement whenever it comes on. Purple neon signs create a mystical atmosphere in your space because it's one of those unique colors you just don't see anywhere.
Regardless of if you want a party decor to light up your event, a colorful aesthetic to beautify your store, or a dreamy display to amplify your home decor, you'll find a purple neon sign for you.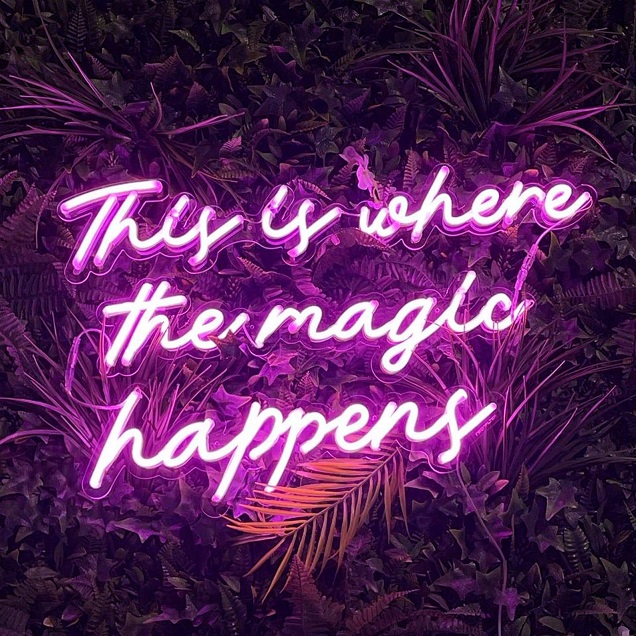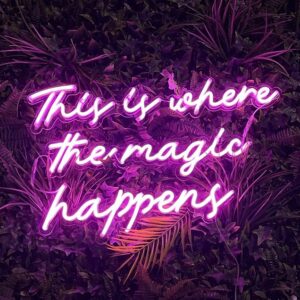 Applications of Purple Neon Signs
Purple Neon Signs For Nightlife and Entertainment
Bars, cinemas, restaurants, diners, game houses, motels, and tons of other nightlife businesses use purple neon signs to amplify their environment and make it more appealing to guests. Purple neon signs create an unusual visual element that stays visible even in the midst of other lights and signs and having a custom purple neon sign in your bar or nightclub will transform your space into the ultimate party room.
Purple Neon Signs For Holiday Events
Purple neon signs are perfect for creating a unique holiday atmosphere for your family and friends. The purple color is a nice choice for your Christmas and Thanksgiving lighting, Halloween and New Year decoration, among other holidays.
Purple Neon Sign For Aesthetics
Purple signifies charm, royalty, and luxury, making purple neon signs a creative way to add beauty and aesthetics to your indoor and exterior decor. You can also use purple signs to elevate the beauty of your home. Whether as wall art, roof lighting, or exterior decor, a purple neon sign will light up and beautify your space in lovely fashion.
Purple Neon Signs For You
Discover trendy purple neon signs for your space:
Halloween Purple neon sign
The chilly tone of this purple halloween neon sign can create a petrifying ambiance for your halloween parties, scavenger hunts, sleepovers and movie nights. The neon sign displays a witch's hat next to a halloween pumpkin that will bring a spooky feel to your space.
Like Crazy Purple Neon Sign
Party and event neon signs don't get any better than this trendy purple neon sign. The sign radiates an energetic and lively mood that will keep your party going all night. This neon sign is a perfect fit for nightclubs, man caves, bars, and other leisure spots.
Better Together Purple Neon Sign
This romantic purple neon sign is designed for dating partners, couples, and newly-weds. It displays the words "Better Together" in a cursive style font, making for a unique wall art to decorate your space for romantic dates, food picnics, proposal dinners, and wedding ceremonies.
Gold Neon Sign
Gold neon signs offer a unique blend of luxury, style, and comfort that can help you set an insightful and sophisticated vibe in your home, office, or business place. It's rare to see a gold-colored neon sign, so people are more likely to appreciate one in your space.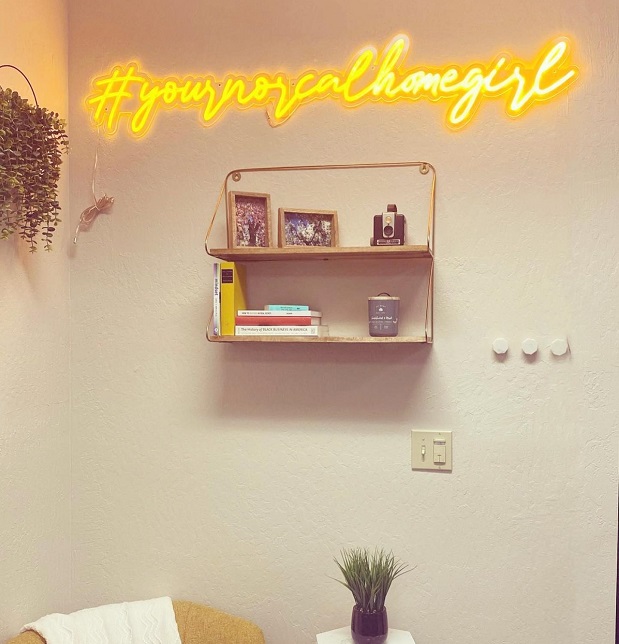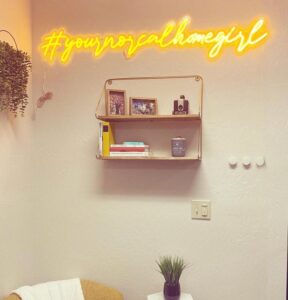 Application of Gold Neon Signs
Gold Neon Signs For Your Event Decor
Give your event an extra touch of glamour, class, and style using custom gold neon signs. The aura that comes with a gold sign is one that will elevate your event decor and set it a class above all others. A customized gold neon sign can also serve as a creative backdrop at your next event to illuminate your photos and create a memorable experience.
Transform Your Business Space With Gold Neon Signs
Gold neon signs can turn a boring business space into an exciting one in no time. The luxurious feel associated with the color gold would make your brand look special and  trusted. This makes gold neon signs ideal to advertise your business and turn passers-by into customers.
Set Gold Standards With Gold Neon Signs
Gold neon signs can help you incorporate classy designs in your space that will radiate high standards and insightful meaning to anyone that sees it. Gold emanates luxury, success, and perfection and a gold neon sign in your space will pass that message accordingly.
Gold Neon Signs To Try Out
Check out trendy gold neon signs for your space:
Gold Pretzel Neon Sign
The gold pretzel neon sign is designed for clubs, bars, bakeries, and hangout spots. It's curvy design will draw attention to your business and beautify your space.
Gold Bro Code Neon Sign
The gold bro code neon sign is a perfect fit for your bedroom, man cave, and living room decor. It's also a perfect decor piece for businesses that cater to men.
David Neon Sign
This gold neon sign combines the glamour of gold signage with the glorious style of one of the most recognized statues in history, Michelangelo's David. It's a perfect fit for indoor lighting and event decoration.
Conclusion
Colorful neon signs offer a simple yet powerful element that you can incorporate in your space to make it stand out. With the right choice of color and design, you can complement any decor theme in your house and elevate your brand identity in ultra-modern fashion. You can also use multicolored neon signs for an entertaining vibe at your next event or to decorate your home for the holidays.
The wide range of colors available means you can always find a good fit to express yourself and beautify your space any way you see fit. Whether you want to create a colorful spectrum in your apartment or you'd like to infuse your space with an interesting choice of colors to captivate passers-by, you'll find the perfect neon sign colors for your needs.