@Echo Neon | Aug 10th, 2023 | 10 minutes read 
Neon signs have an undeniable charm that can light up any room with their captivating glow and unique designs. Whether it's your cozy abode or your workplace, neon signs can be a perfect addition to spruce up the decor. Therefore, given the extended amount of time we're spending indoors lately, why not choose a room and jazz it up with a neon sign?
Neon signs can help add a personal touch to your living space, either as a small accessory or a statement piece. They can bring character to your home and impress your loved ones. Now, here are 10 ways to use Neon signs as interior design:
Neon Signs in Children's Bedroom
For children of all ages, a neon sign in their bedroom can make the room fun and personalized. You can go for their name or favorite video game characters on the wall above their bed. It can make their personal space more enjoyable and special.
Neon Signs in Open Kitchen Diner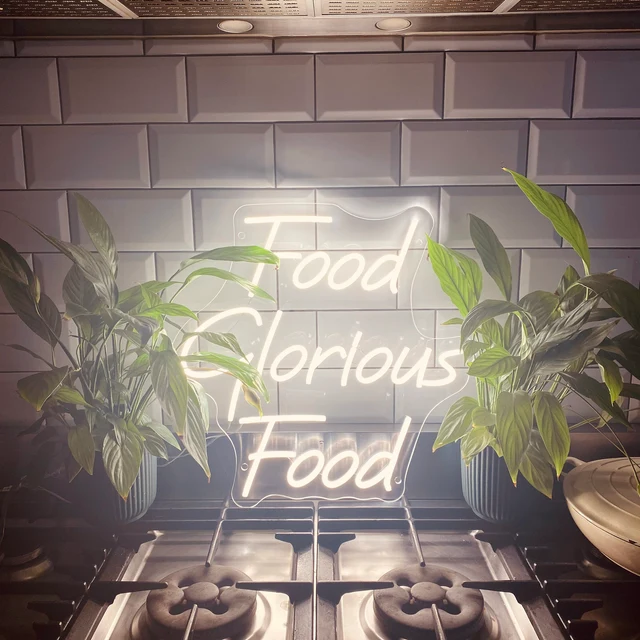 In an open Kitchen Diner, a neon sign can create a lively ambiance and become a conversation starter with guests. It can highlight a particular area of the kitchen like a bar area where you entertain guests and relax after a long day. A neon sign with a quirky design can transform your kitchen-diner into a unique and exciting space.
A playroom is a perfect spot to add a splash of fun and vibrancy with a neon sign. It can serve both as a source of light and a perfect finishing touch to the room. If it's an adults' games room, a creatively designed neon sign can set the mood just right.
Neon Signs in Home Office
With most of us working from home these days, it's essential to create a stimulating and visually appealing home office. A neon sign can be a perfect addition to keep you focused and motivated throughout the day. Whether it's your company's logo or a personalized quote to keep you going, a neon light is a must-have for any productive workspace.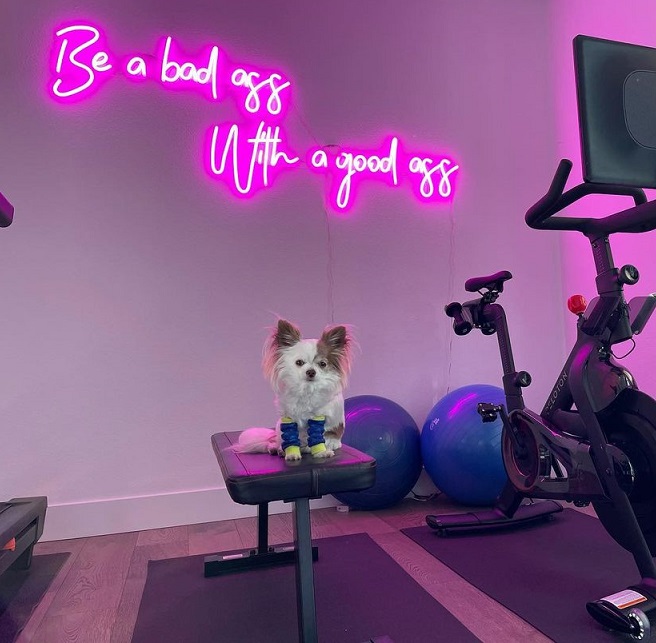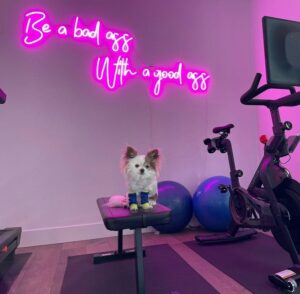 For those with a home gym, a motivational neon sign can be a perfect way to push through the last few minutes of a challenging workout. It can serve as an inspiration and provide the extra boost you need to keep going. Indeed, a positive and uplifting neon sign is an excellent investment for your home gym.
Adding Neon Signs as Wall Arts
Artwork is an excellent way to add that finishing touch to any room, filling a blank space with something that catches your eye every time you walk by. Neon wall art is a contemporary option that can add a unique and fun element to your home decor. With infinite design options and a variety of colors to choose from, you can have fun designing your new piece of art.
Use Neon Signs as Pops of Light
In addition to providing an interesting design to look at, neon signs can also be a source of light in your home. If you're struggling to find the perfect floor or table lamp, let a creative neon sign do the job! Using neon as lighting can serve two purposes, giving you the chance to add something decorative to the room while also lighting up an otherwise dark corner or wall.
Create a Focal Point of The Room With a Neon Sign
If you have a room with a neutral color scheme or simple furniture, consider creating a focal point by adding a neon sign. It can be big and bold or subtle, depending on your personal taste. Having a focal point can make the room feel complete and draw the eye.
Use Neon Signs as Nursery Art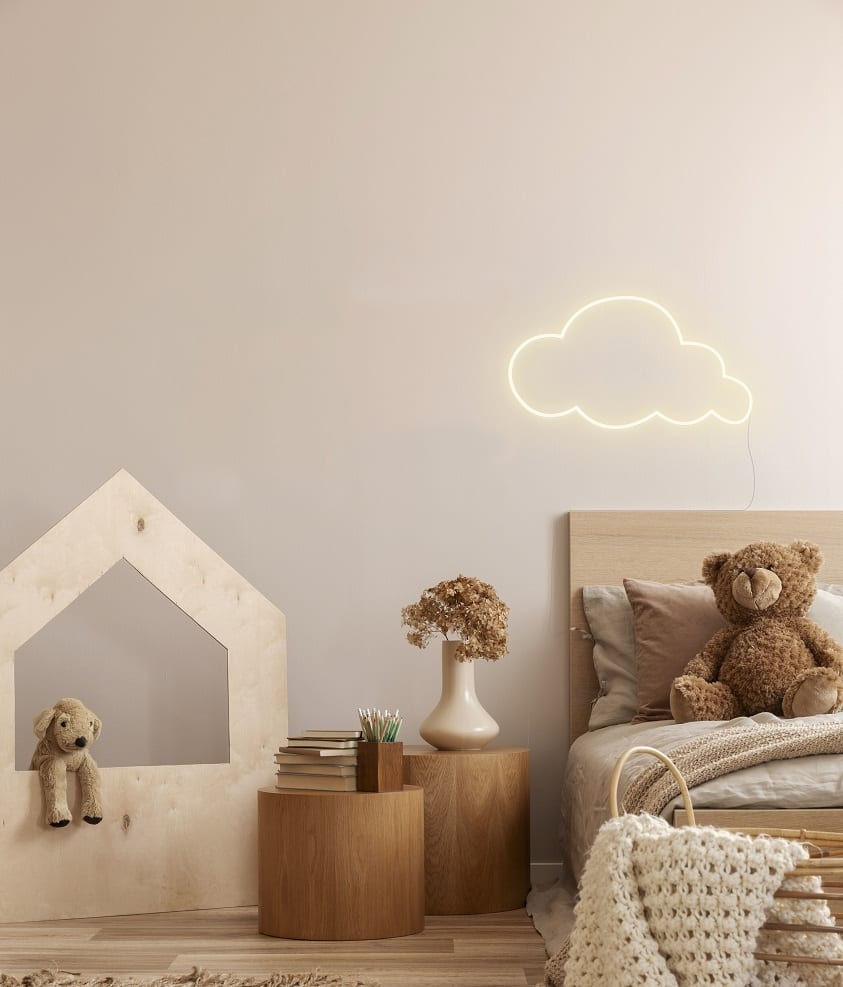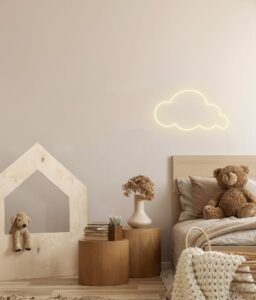 Using neon signs in children's bedrooms can create a warm and welcoming glow. You can display their names, a nursery rhyme, or shapes to make their room feel like a little sanctuary in your home.
Use Neon Signs in Entertaining Guests
Neon signs can also add a fun element to your home when entertaining guests. Themed neon signs can set the scene for evening drinks or Sunday brunch. They can create a talking point for your guests and make the occasion feel a bit more special.
Benefits of Using Neon Signs in Interior Design
Neon signs have become increasingly popular in interior design due to their many benefits. Here are some of the main advantages of using neon signs in your space: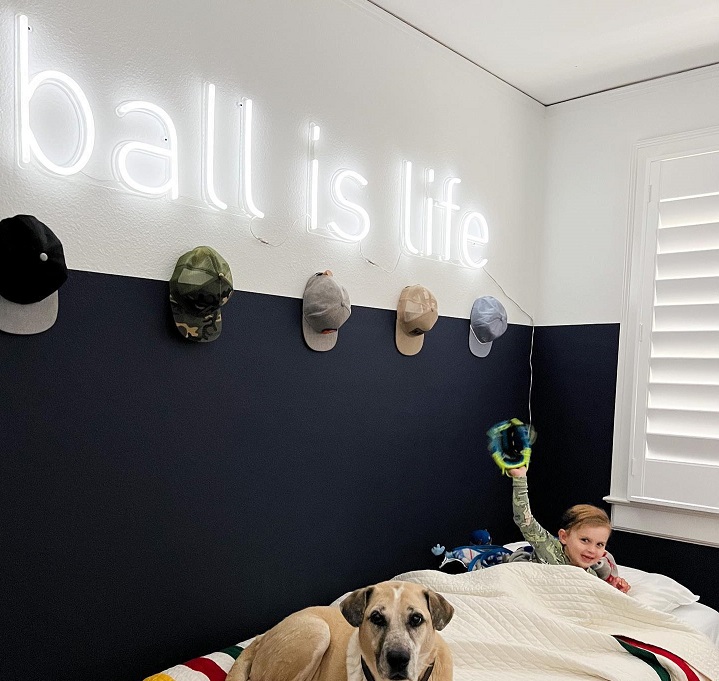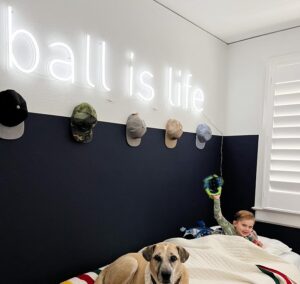 Neon signs come in a wide range of colors, sizes, and fonts, making them a versatile design option that can be customized to fit any interior style.
A well-placed neon sign can be an eye-catching focal point in any room. It can add a touch of uniqueness and creativity to a space and help to set the tone for the overall design.
Add personality to a space
Neon signs can be personalized with quotes, phrases, or images that reflect your unique style and interests. They offer a fun and playful way to express your personality and add character to your space.
Highlight specific areas or features
Neon signs can draw attention to specific areas or features in a room, such as a bar area, a gallery wall, or a favorite piece of artwork.
Energy-efficient and long-lasting
Neon signs are energy-efficient and have a long lifespan, making them a sustainable and cost-effective option for interior lighting and design.
Tips For Working With Neon in Your Home
Here are some tips for working with neon lights in your home: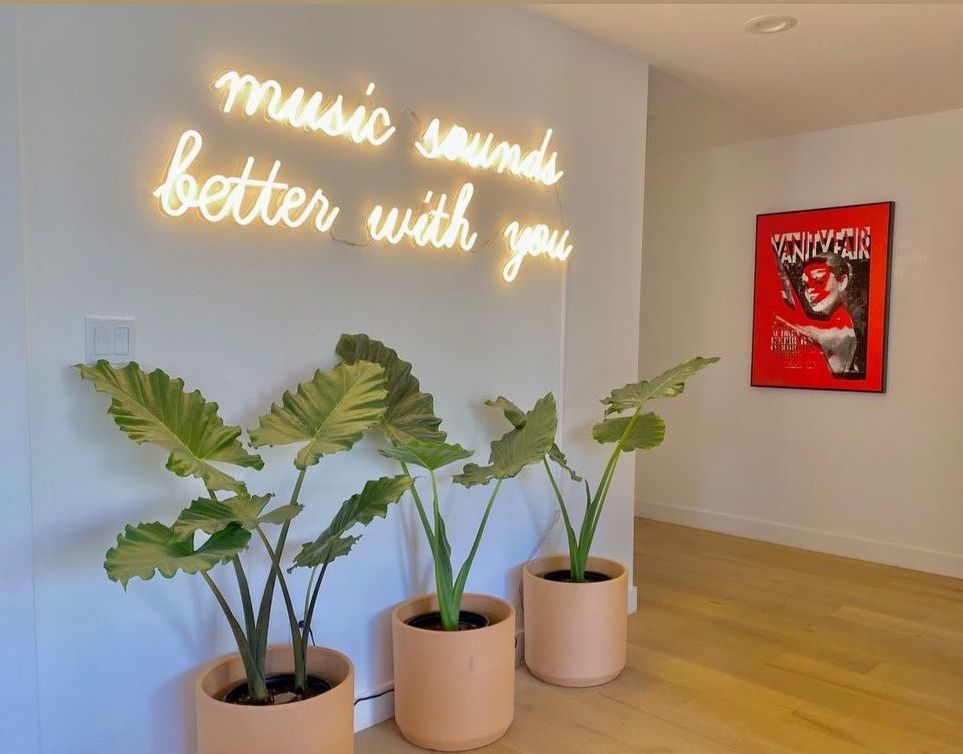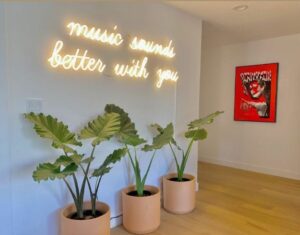 Typography and quotes are popular ways to incorporate neon signs into interior design. Incorporating a neon light of a personal quote or message can add a unique touch to your space. Whether it's a favorite sentence or a personal mantra, a neon sign can serve as a daily reminder or inspiration. 
Typography neon signs can be incorporated into any room in your home or office. They work particularly well in living rooms, bedrooms, and home offices. Consider placing a neon light above a bed, desk, or couch for a striking focal point. You can also use typography neon signs to add a personal touch to a gallery wall or to create a cozy reading nook.
Accent lighting is an essential aspect of interior design, and neon signs can be a unique and eye-catching way to incorporate it. Incorporating accent lighting neon signs into your space can create a cozy and inviting atmosphere and can highlight specific areas or features in your space.
There are different types of accent lighting neon signs that can add a romantic, dreamy, or edgy touch to your space while providing ambient lighting. Examples of these include neon signs in the shape of a heart, a cloud, or a lightning bolt.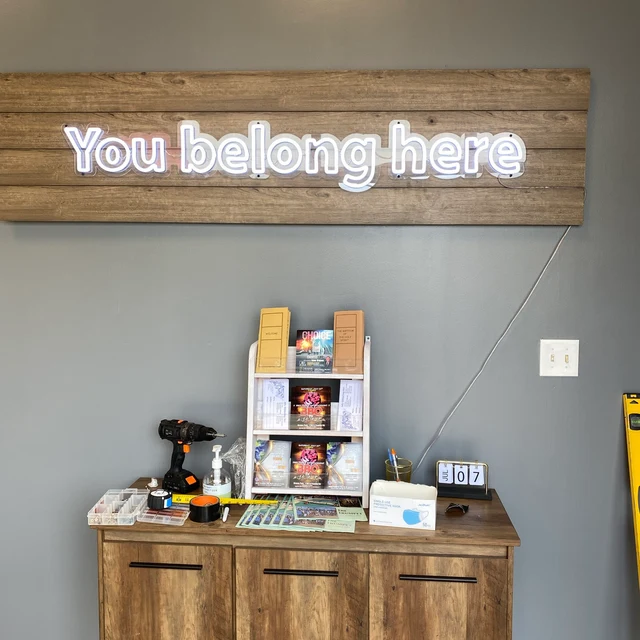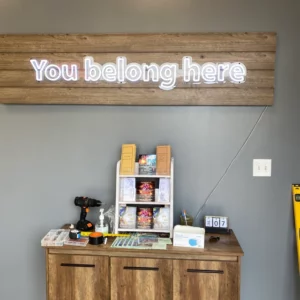 Silhouette and shape neon signs are a fantastic tool to add a unique touch to your interior design. These neon signs can outline or highlight specific objects in your space and draw attention to them.
There are numerous shapes and silhouettes to choose from when it comes to neon signs. Popular options include stars, hearts, arrows, animals, and geometric shapes. A neon sign in the shape of a moon can add a dreamy touch to a bedroom, while a geometric shape neon sign can add a modern touch to a living room.
Conclusion
No doubt, neon signs offer an exciting way by which you can infuse your personality and creativity into your interior design. Whether you prefer quotes in excellent typography or silhouette and shape designs, graphic logos or accent lighting, there are endless possibilities with neon lights.
We hope this article has given you some inspiration to consider using neon signs in your interior design. Whether you want to create a playful atmosphere in your living room, a cozy vibe in your bedroom, or make a bold statement in your office, Echo Neon offers you versatile and dynamic neon light options that can meet your needs. Explore our website to make an order or contact us to know how we can be of help in making your decision better and easier.