@Echo Neon | April 27th, 2023 | 10 minutes read | Advertising, Business, custom neon sign
Neon Signs are generally used and recognize the way to attract customers. These attention-grabbing signs are glowing and easily viewable in daylight, best for home and commercial usage:
Retail location

Restaurant

Hotel Service providing businesses

Interior decor
Echo Neon is a reputable and trustworthy neon customization place. We specialize in making custom Neon Signs for home, garden, decor and business needs. We provide limitless colour options, font sizes, and support options. We can customize according to your needs, manufacture, and even you can customize the neon sign that can match your business and even neighbouring buildings. We do not know about your business, but we will build the Neon Sign for your business. We deliver the precise Neon Signature you need to customize in your clients/customers. We promise to build a good and profitable business relationship with you, and we guarantee to offer and deliver top-quality signature and service for our valuable customer business and home decor needs. All we need from you is your requirement and trust in our Technical Expertise.
Echo Neon Customization
We at Echo Neon provide our valued customers with the service to online design their Neon Signs. Custom Neon Sign designing at our site is very flexible. To create your Neon Sign, you need to follow the following steps: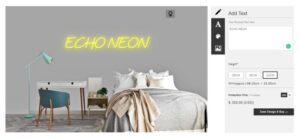 Get to our Customization page at echoneon. 

The customization divides into two portions; in the first part, your customized Neon Sign is displayed. The second portion of the page allows us to make changes and customize your Neon Sign.

There are five features to use "make your very own Neon Sign".

Add Text: This feature allows you to make your Neon Sign signature by merely writing the text here.

Select Font: In here we have different styles; each style gives a new and elegant look. Once you apply any font, you can easily see them on the first portion in which yours Neon Sign displayed.

Select Color: We have a different color scheme here to choose which one will suit your requirement the most.

Scene:

  For us to differentiate the outlook of your customized neon design there are three different scenes provided here once you choose anyone of the view your Neon Sign is displayed on the particular area on display portion of the page. It has a light switching button to give the fell of the difference in the look of day and night.

Height:

 We have three options of setting the height of Neon Light which is 25CM, 29CM, and 33CM.

Once you have adjusted perfect Neon Sign and customized it, Echo Neondoesn't leave you just here. We get the customization price right below the Height options. Let us know about the budget you have for the customized Neon Sign.

Once you have customized your very own Neon Sign you need to click on 

"Save Design & Buy →",

 the order will be added to the cart, provide your credentials and after this, within estimated time your order is ready to be shipped.

What you do if you don't get what you want from the Customize page?
Anything which can be prepared from neon light, we have it. You need to scroll down to the bottom of the page. You will find the CONTACT US button, and our team will get in contact with you as early as possible. Give us your idea, and we will realize it for you.