@Echo Neon | Feb 19, 2023 | 10 minutes read | home decor, neon sign, interior design
A place to lay one's head at night is one of the most basic needs of every human being. While this is the primary function of a home, there are several other attachments that a home provides to its owner. As a homeowner, you can be emotionally attached to your home as it provides a sense of security, enough to make you smile each time you walk into your home. 
Making a home not only habitable but also one with a sense of attachment dwells on intelligent home planning and decorations. Home décor, even as little as the tiny frames on your walls, makes you feel relaxed in your space.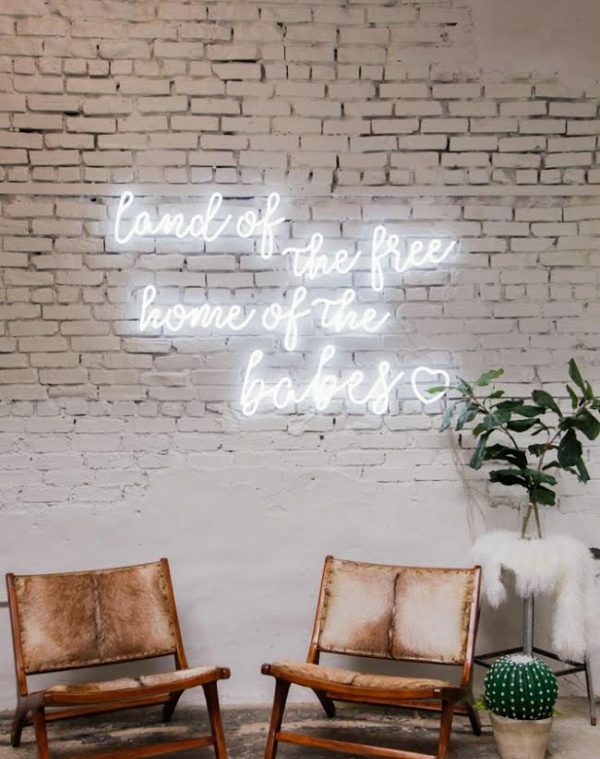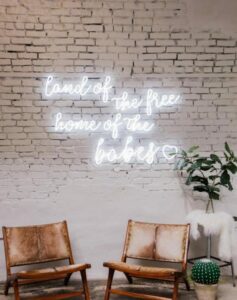 Why is Home Décor Important?
It is essential to understand that owning a home goes beyond having a place to call your own but also includes the ability to be creative and expressive with your space. Hence, there are several reasons you should take your home decorations seriously. 
Have you ever walked into a friend's apartment and could tell it was your friend's space based on the arrangement or the entire setup of the area? This shows that the way your home is designed has a lot to say about your personality. As a dog lover or a nature lover, you can easily express your love for nature or dogs with the kinds of art you put in your home. A person can walk into your space and quickly tell that you do not joke with nature; that's one thing that a practical home décor does. 
Aside from expressiveness, functionality is another aspect of home décor. Home décor helps to make your space into what you want it to be. Have you ever wondered why interior designers are always particular about an area's function before deciding what fits into the space? This is because a place can only be what you want based on what you put in it. For example, a room meant for relaxation would be devoid of objects that make relaxation difficult. No matter how fitting or beautiful a design is, it should not go into the bedroom if it makes it difficult to sleep at night. Hence, home décor is essential for the functionality of a space. 
Also, home decorations allow your space to be more aesthetically pleasing, thereby increasing the capability of your home or space to boost your mood. It is not news that great-looking rooms tend to make occupants happier, more relaxed, and more productive. Hence, you must invest significantly in making your home look good. 
How Neon Signs help with Home Décor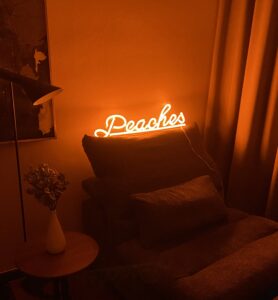 Neon signs are light sources that can help beautify, brighten, and bring out the best in your space. They are important home décor pieces as they help give your room the extra design touches needed. Whether you are looking for vintage décor designs, retro style, modern, or minimalist designs in your space, neon signs are a perfect match. 
Neon signs for bedroom décor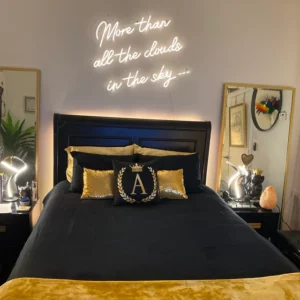 Bedrooms are spaces for rest and comfort. Hence, you should be surrounded by decorations that help you stay comfortable and serene. Neon light wall décor for bedrooms can come in different shapes, colors, and styles depending on your preferences. Your neon sign room décor can be custom designs showing shapes like the moon, peace sign, or your favorite gaming sign. 
You can also use the neon signs to inscribe your favorite sayings or your daily mantra on your walls; you can place these just above your bed, and they can help illuminate and decorate your bedroom space. Another great use of neon signs in the bedroom for kids is writing children's names or nicknames in the rooms to illustrate and show ownership of spaces; these designs can also come in the shape of their favorite superhuman or cartoon character. 
Neon signs for living room décor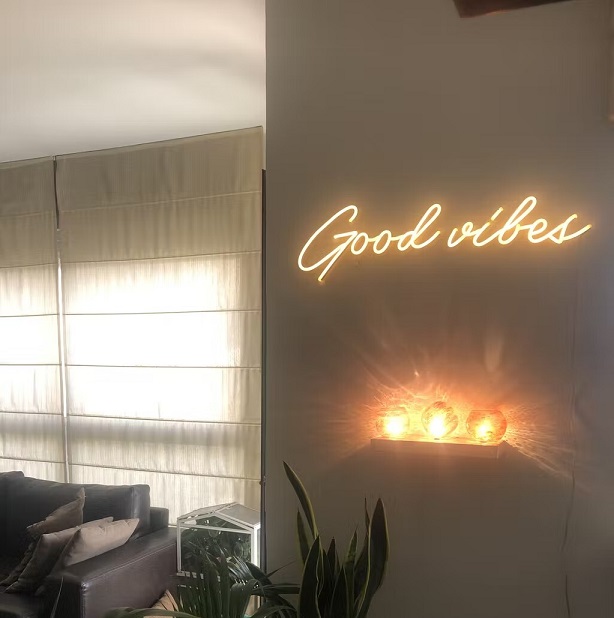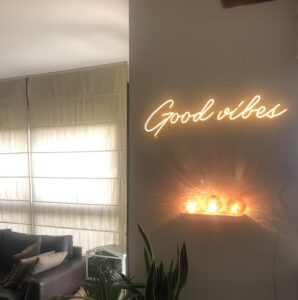 Another space in the home that neon signs can help illuminate and beautify is the living room. Based on the function of the Living room, which is for relaxation, accepting visitors, and spending time with friends and families, neon sign designs for this space should be welcoming. 
You can use designs like a welcome sign or inspirational phrases. Another excellent idea for a neon sign living room is to highlight photo frames, artworks, or other wall art by placing the neon sign around the art pieces such that they are more noticeable to visitors. 
Neon signs for Dark spaces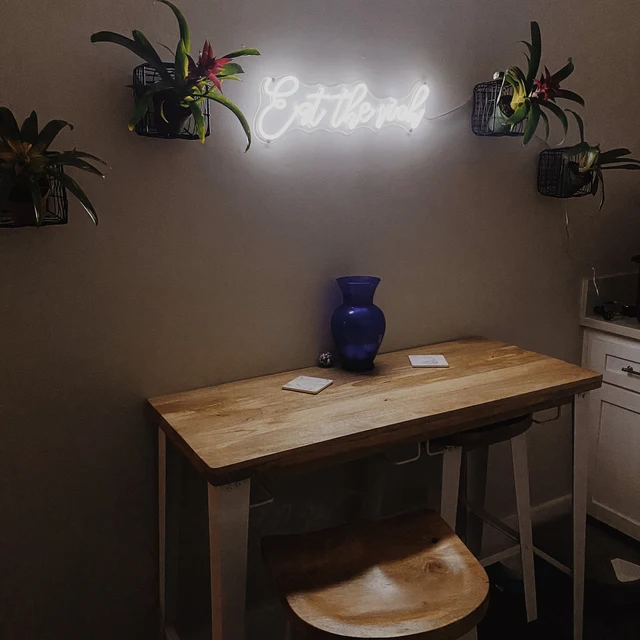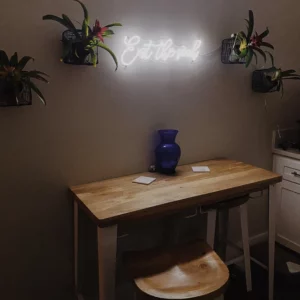 Home neon signs are not only for spaces where major physical activities are done. Dark areas like hallways or passageways can also be adequately illuminated and beautified with neon lights. To create beautiful scenery, you can use neon signs to make out solid shapes under the stairs or along halls/passages. Your closets and bathroom are not excluded from looking great with neon signs. 
Neon signs for kitchen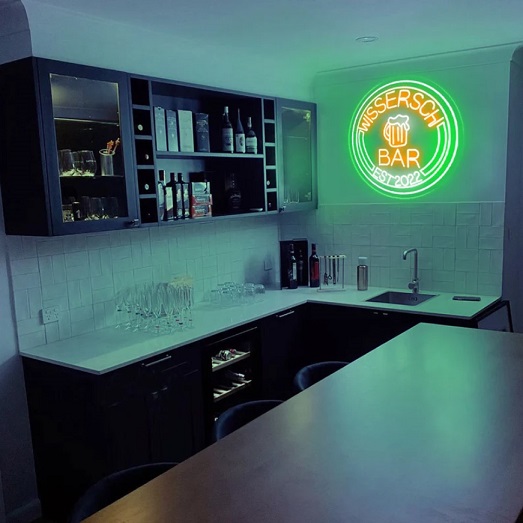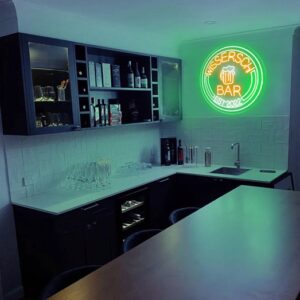 Who said you could not make your kitchen space look beautiful? A quote from Julia Child says that "the more you know, the more you can create. There is no end to imagination in the kitchen." And this statement is true. Kitchen spaces are creative spaces in homes, and decorating them in the most authentic forms should not be neglected. 
A neon sign for home décor is also helpful for the kitchen since it is a place of creation. Your creativity in cooking can be further inspired by the type of designs that are available in the kitchen. Putting out great quotes like Julia Child's and others by great chefs is a great start—you can use neon signs to achieve this. 
Other ideas on where to place your neon signs:
If you have creative spaces in your home where you get things done. For example, in a recording studio or a display studio for your artworks, you can use neon signs to add a touch of your personality. You can use inspirational quotes, favorite words of your mentor/role model, or the name of your art brand as custom neon sign designs. 

You can use neon signs to brighten the space if you also have home-built bars. Use fun and expressive designs that would make your home bar look great.   

Libraries are becoming common in several homes; if your home has a library, it deserves some attention too. You can decorate your library with neon signs around the shelves and wall art in the library. You can also make custom designs like book images, quotes from your favorite books, or other inspirational texts. 
How to choose Neon signs for home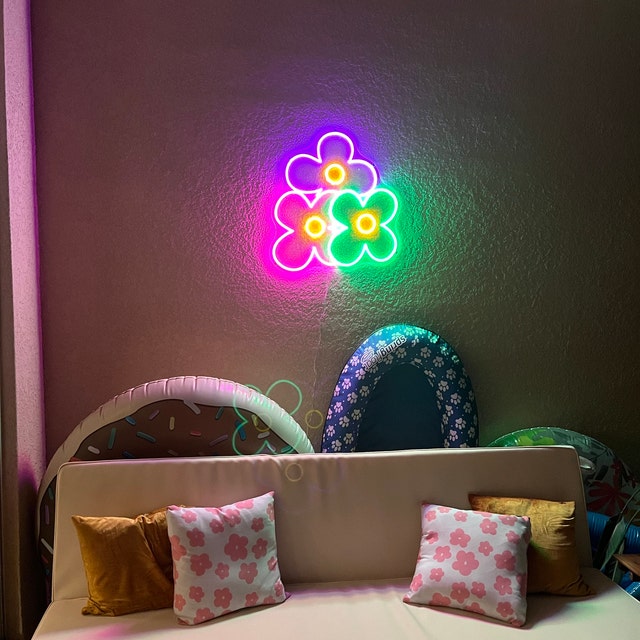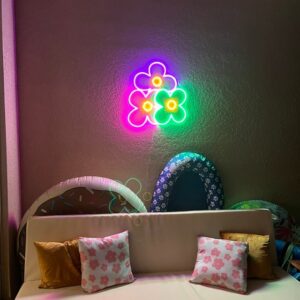 Knowing that neon sign home décor is an essential aspect of making your home look great; there are certain points that you should bear in mind to help you pick great designs for some spaces. 
Your preferred neon sign design and color should go with the background of your space. For example, a dark space would need a brightly colored neon sign. 

When choosing a neon sign design, it should align with the purposes of the space it is to be placed. 

 It is crucial that your neon sign choice fits your space, style, and taste. 
Do neon signs cost a lot of electricity?
Neon signs do not need a lot of electricity to work; this makes them a preferred household choice for lights and decoration sources that do not consume much electrical power. Little electricity usage means less money spent. 
Conclusion
Home décor is as important as the choice of a home for similar reasons—home decor speaks of your style, taste, and personality. The idea of a home means comfort, and the types of home décor items chosen help you achieve this function. Neon sign home décor is one of the ways to illuminate your space while also creating beautiful sceneries effectively; your living room, kitchen, and bedrooms are not left out of the wonders of neon signs.