@Echo Neon | Aug 1, 2022 | 10 minutes read | Wall art, Home decor, Neon wall sign
Have you decided that you'd like to decorate a room in your home to achieve a more romantic and charming aesthetic? Rather than going out of your wait to paint the walls of the room or make drastic changes that cost a fortune and take up too much time, you can easily save time, effort, and money while switching up the look of this room in your home, whether it's the bedroom, living room, or anywhere else. Buying and using the right wall art will make a world of difference, adding appeal and contributing to that fairytale-style ambiance you'd like to create. If you're not sure where to get started, check out the different types of wall art that tend to make a room look more romantic than ever.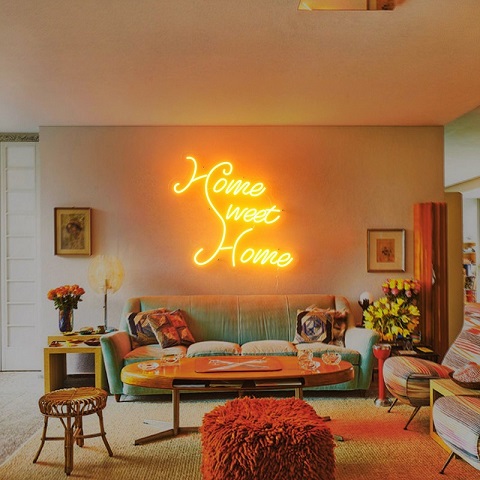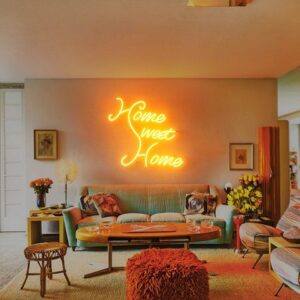 Neon wall signs have existed for decades and aren't going out of style any time soon. What's not to love about these bold, bright LED neon signs for wall decor? They're available in different colors and shine brightly against the wall, even when all the other lights are out. You've probably seen these signs in quite a few establishments you've visited over the years as they've become increasingly popular and common to use in places like restaurants, nail salons, spas, clothing stores, and more.
Although they're perfect for business owners looking to add something special to the walls of their establishment, the neon sign wall art is ideal for transforming any room in your home, giving it much more of a romantic appearance. Perhaps the luminous appeal of these signs captures attention and sets the tone for the room. Still, something so naturally intriguing about these colorful pieces makes them worth hanging up around the home.
Create a Look You'll Love with Fun Neon Sign Wall Art
When you're adding neon sign wall decor to any room in your home, you have plenty of choices to make, such as the colors you'd like to use and the specific design or style you prefer. From small quotes crafted in a perfectly designed text to silhouettes and shapes of some of your favorite things, such as hearts, stars, and holding hands, it's easy to create a romantic vibe when you have plenty of options available to you.
After you've selected the specific style of signs you'd like to use to create the ideal aesthetic in a room like a bedroom, you'll need to decide where to put them. Hang each neon light wall sign in open space on the walls throughout the home, covering blank walls with brightness and excitement. Once you turn off the lights in that specific room, you can turn on the lights to your neon signs and illuminate the space, creating a look that makes you feel at ease and evokes only the best emotions from you, such as excitement and satisfaction.
2. String Lights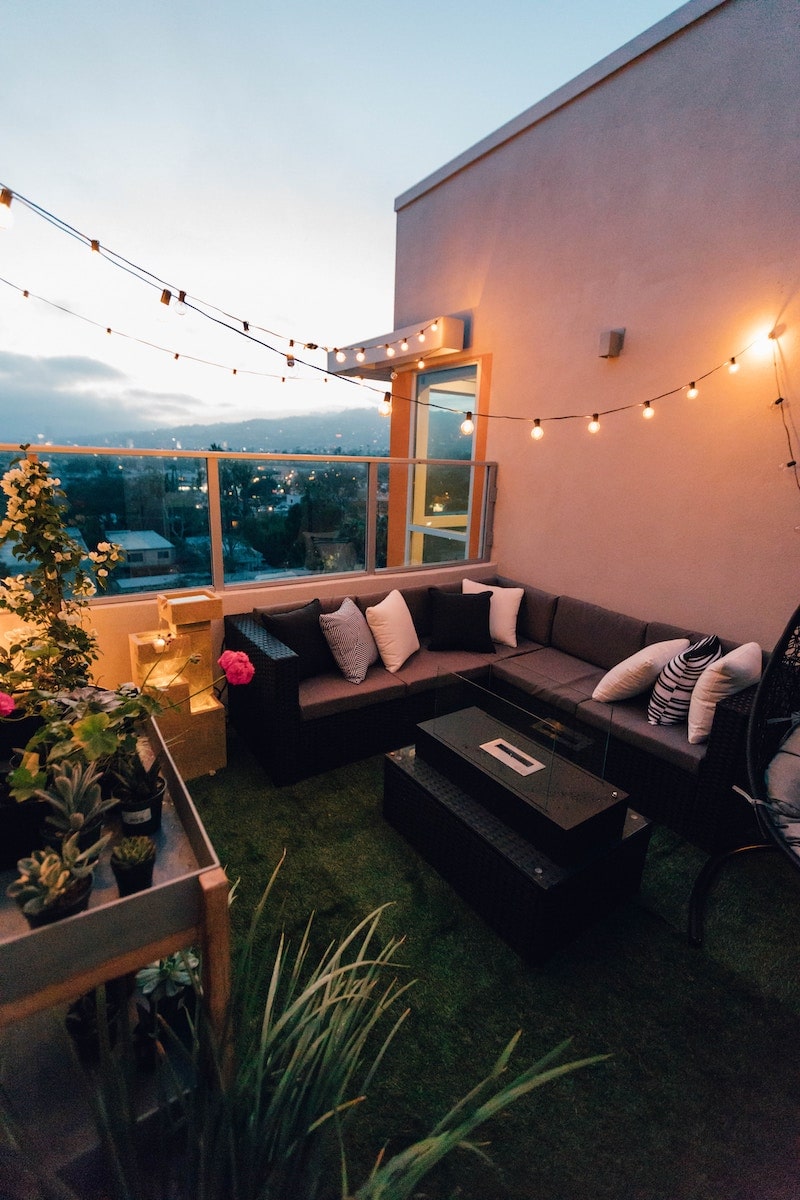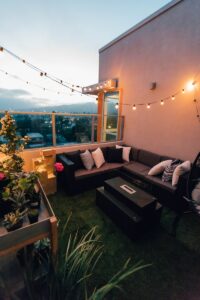 String lights, also known as fairy lights, are dainty and delicate enough to add extra appeal to any room in the home that you'd like to make feel a bit more romantic. These lights pair well with neon signs and are perfect for installing around the room's edges. If you can stand on a ladder or even a sturdy chair, you can reach the corners of the wall and begin hanging your string lights from the ceiling, placing them in a line to illuminate the room even further.
Pick the Colors and Styles That Match Your Signs
Like the neon signs, string lights come in different colors and styles, so you'll have plenty of options to choose from when you want to find the perfect match to go with your signs. In addition to installing these lights around the ceiling, you can get creative with them, using them to hold pictures of loved ones that will create an even more inviting and loving vibe as you work to create the ideal romantic aesthetic. You can even find string lights with gorgeous butterflies and other neat decals attached that truly make a difference in improving the room's overall look and feel.
3. Romantic Tapestry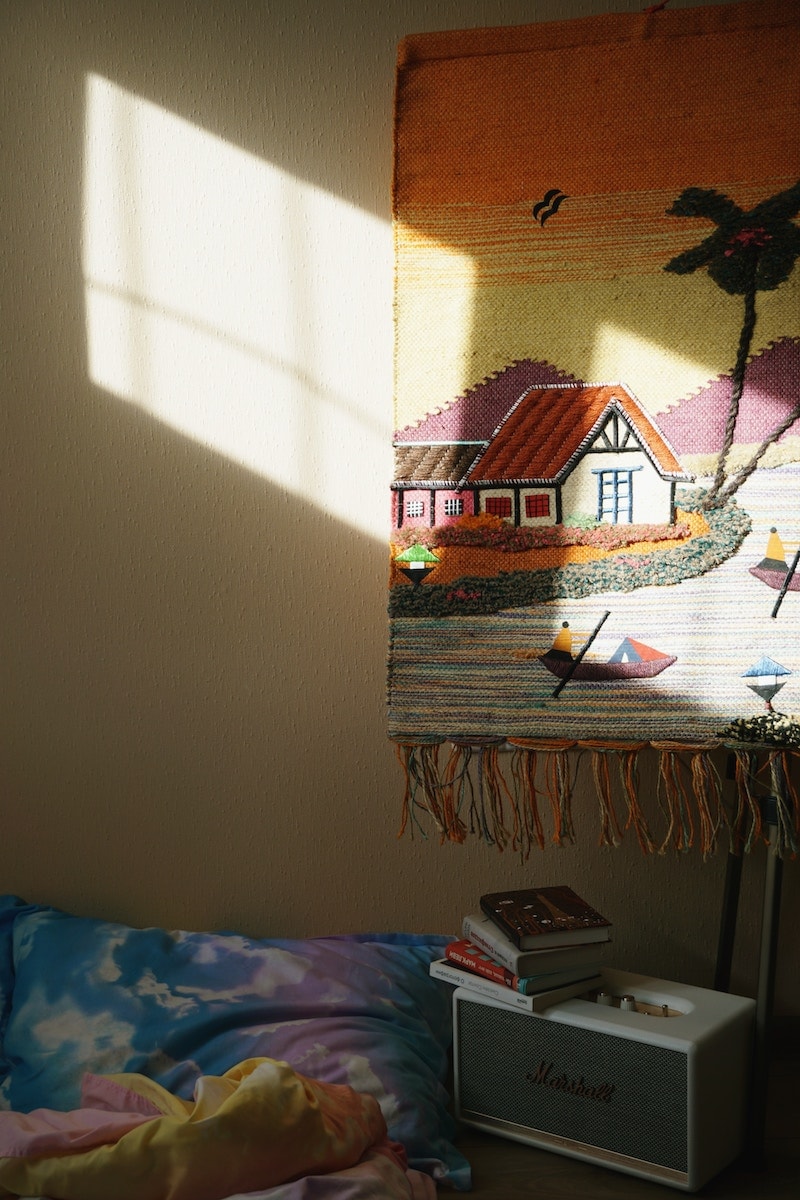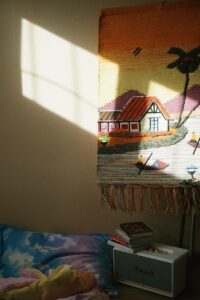 After filling some of the walls of your room with gorgeous neon signs and hanging string lights above them from the ceiling, be sure to tie everything together with some of the most stunning tapestry you can find. The perfect way to avoid going through the strenuous painting process, tapestry covers a large portion of the wall, giving it an entirely new and different look and feel. Say goodbye to that boring, basic wall depleted of any color and excitement, and say hello to a gorgeous piece of art that you can get lost in for hours as you stare at it.
Enhance the Look and Feel of Any Room
Because tapestry is nothing new, and people have used it for decades to decorate the walls of their homes, it's not hard to find options in different colors with unique designs and prints on them. You can search for some of the most romantic options, including pieces with gorgeous flowers, hearts, planets, stars, galaxies, and so much more. Go for what you feel will match best with the specific neon signs you've selected, creating that overall romantic vibe you've wanted to achieve for so long. Once you've covered a portion of the wall with tapestry, you'll wonder why you didn't do it sooner because of how easy it is to install and how good it can make any room look.
4. Decorative Mirrors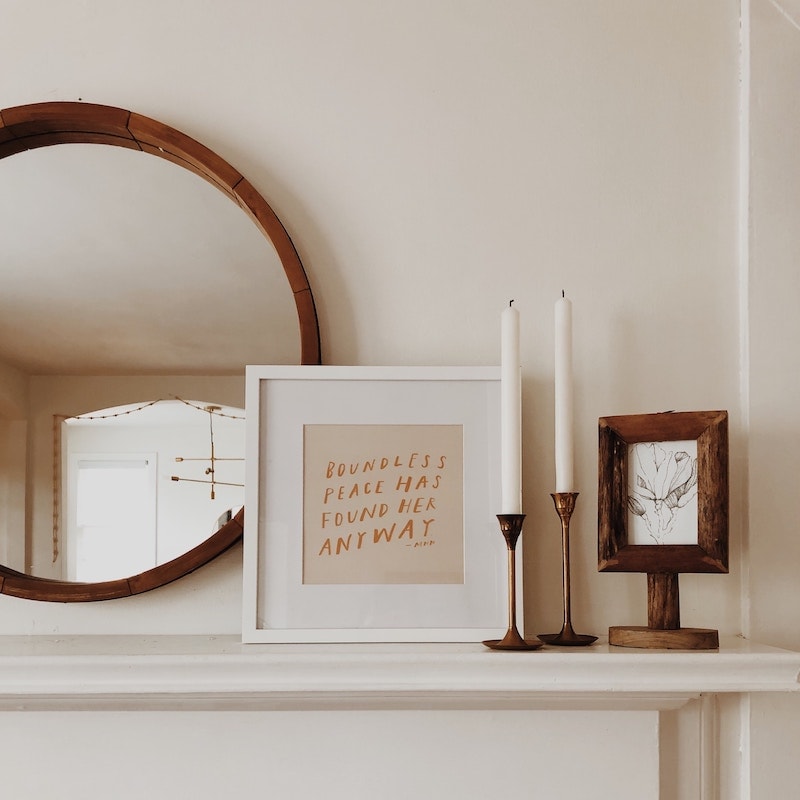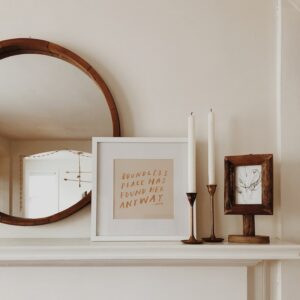 Complete the new look of your room with one or more decorative mirrors in stunning shapes and colors. Ditch the ordinary rectangular mirror you'd see in most places and go for something with an exciting design that goes with the rest of the decorations used to create a romantic vibe in your room. For example, you can choose a heart-shaped mirror representing love and passion or mirrors in the shape of the moon's phases. If you've used a galaxy-style tapestry with bright, romantic neon lights and string lights, the moon phase mirrors would be the perfect addition to the room.
The great thing about mirrors is that you can do so much with them, placing them in all kinds of spots throughout the room. Whether you want them on the ceiling, above the window, or off to the side, you can find the perfect place to put them to create that romantic, picturesque room you've envisioned in your head for so long. Find mirrors in different sizes and play around with them a bit before deciding where you'll install them based on where they happen to look their best.
Create a Romantic Vibe in Any Room
Many things can change the look of a room and give it a certain aesthetic. If you're looking to enhance the appearance of a room in your home, such as your living room or bedroom, by making it look more romantic, these are a few of the different types of art pieces you can place on the walls to complete a stress-free and fun transformation. From hanging beautiful custom-made neon signs on the walls to pairing those signs with string lights, tapestry, and mirrors, you're sure to take a dull, boring room to beautiful and charming in no time.
5.Photo Wall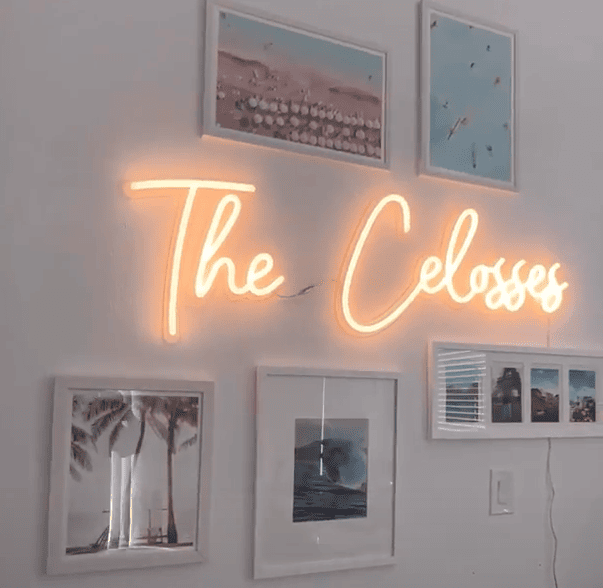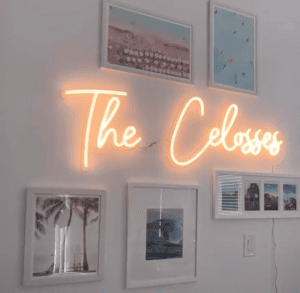 A photo wall is a beautiful and sentimental centerpiece in a romantic room. It allows you to showcase your most treasured memories and create a visual timeline of your relationship. Choose a prominent wall and gather meaningful photographs, ranging from intimate moments to adventures together. Arrange the photos in a layout that resonates with you, mixing different frame sizes and orientations for visual interest. You can transform your photo wall into a captivating display that captures the essence of your love by adding a personal touch with decorative elements such as fairy lights or small trinkets.
Incorporate Neon Signs for a Romantic Flair
Incorporating neon signs into your photo wall decor adds a modern and romantic flair. Choose a neon sign that aligns with the theme of your photo collection, such as love quotes, symbols, or customized designs. Find the perfect placement within your photo wall layout, ensuring it enhances the overall composition. Coordinate the lighting effects with the room's ambiance, using dimmed lighting or string lights to create a soft glow that complements the vibrant neon illumination. You can create a display that beautifully showcases your cherished memories by carefully selecting and integrating neon signs into your photo wall
Conclusion
Decorating a room to evoke a romantic ambiance doesn't have to be a daunting task. By incorporating the right wall art, you can transform the look and feel of the space without breaking the bank or investing excessive time and effort.
From neon wall signs that exude boldness and vibrancy to string lights that add a delicate touch, the options are endless. Enhancing the romantic atmosphere can also be achieved through the use of romantic tapestries that cover the walls while completing the transformation with decorative mirrors in unique shapes and colors to add an extra touch of charm. And let's not forget the sentimental power of a photo wall, where cherished memories can take center stage.
So, let your imagination guide you as you explore the vast world of wall art, and create a space that radiates love, warmth, and romance in a way that uniquely reflects your style and personality.