@Echo Neon | Sep 12, 2022 | 10 minutes read | interior design, home lighting, bedroom light
Neon might be the way to go if you want to liven up a boring space. Neon accents are a fun and easy way to inject the trend into your interior design. Adding a vintage neon sign or a neon wall hanger might be a cool way to decorate your wall. Neon lights need some work, but they can make your house shine.
There is no better way to make your bedroom feel like a one-of-a-kind haven than with the help of neon signs. If you're looking for a neon-led décor sign to display on your bedroom wall, go no further than the LED Neon Wall Light.
The use of LED strip lights and neon signage in private spaces has increased in popularity recently. Light boxes, ceiling signage, and even plain old solid neon lights have joined the trend of being displayed close to your bed. This post will show you how to decorate your room with economical and high-quality neon signs that will add greatly to your bedroom's decor ideas.
Add some neon signs for bedrooms to your interior design scheme for a splash of glitz and glamor.

How to Evaluate a Neon Sign
Putting up neon signs is a one-of-a-kind technique to brighten up a dull space. Adding neon signage to your home will instantly elevate the look of any space, but you should exercise caution. When selecting a neon sign for a bedroom, there are some details to look at. It's important to always keep the sign on, even if the power goes out. Also, check to ensure it's sturdy and not going to break quickly or give electrical burns if it does.
Neon Signs/Lights Room Decor Idea
Neon signs are always entertaining. Neon signs are an efficient way to add a splash of color to your space, create a functional night light, or find inspirational quotes to live by. The orange paint on the walls contrasts beautifully with the blue carpeting you put in for comfort. Because the windows in this space are unobscured, it makes good use of daylight. There's a sense of airiness because of the lack of partitions.
You're free to put the lights/signs wherever you'd like. Take a peek at these beautifully lit neon ideas for your room if you're at a loss on where to start.
Bedrooms with Neon Lights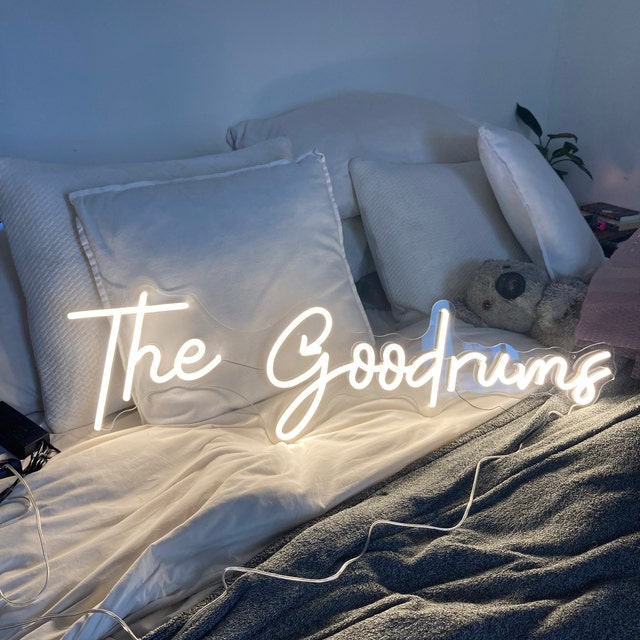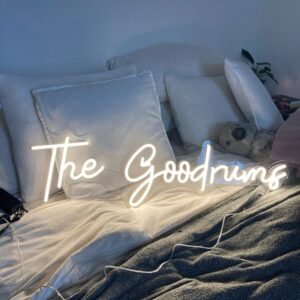 Many people replace traditional sconces in their bedrooms with neon lights for a more festive and comfortable atmosphere. If you don't want to splash money on a headboard, you can easily construct your own by attaching neon lights to the wall or ceiling over your bed and writing encouraging words or sentiments. It's a bedroom, so anything that adds a romantic touch would be appropriate, including hearts or something similar.
Make Your Space Feel Like the Future
The game room is a more complex proposal. You can give a room a more futuristic feel by using vertical neon lighting. The image can depict an ideal environment for a gaming session. However, it might also be a great addition to creative dorm rooms, living spaces, or even man caves.
To implement this concept, you'll need the thick neon lights you can only get in bars. To get the lights correctly wired in, you may also need to employ a professional electrician or renovator.
Plus, keep in mind that neon lights that have been expertly put and built should never get too hot to the touch. If you come across one, you might wish to upgrade to a better light if it is.
Neon Lights as Decorative Accents
Neon lights are not only wonderful for creating new designs but also for highlighting existing decor. A red neon light on the wall hanging is an example of how you can use this lighting around the wall art. It adds a lot of visual aid to the colorful artwork.
You can't go wrong with neon lights as accent decor to draw attention to whatever you want. If you want people to focus on a specific thing, placing a bedroom neon sign behind it is a good strategy. Put some neon lights around an expensive painting you have hanging in your room so everyone can see it. Neon lights can make any object look 10 times cooler, so they're a great way to give your picture a contemporary feel.
Neon lights can be placed under the furniture in your room to provide a glow and draw attention to the carefully curated pieces you've placed there. You can also use neon lights to draw attention to images displayed around your home since they make the pictures seem to float away from the wall. You can turn out the lights in the room but keep the neon lights around your pictures to emphasize the most significant moments in your life.
You could use neon lights to illuminate the floor beneath large pieces of furniture. One such source of illumination is the area beneath the island stovetop. Neon would be a cool twist on the common practice of installing colored lighting under cabinets for ambiance.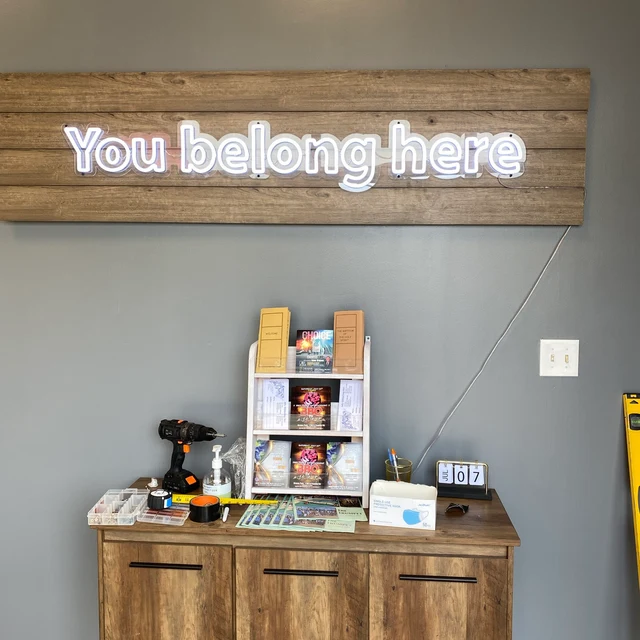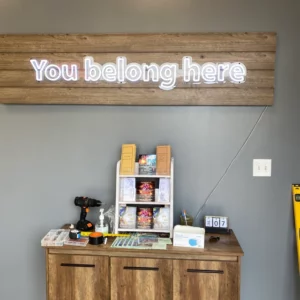 Create a Mood with Your Words
Neon lights, or  Edison bulbs, are often used to spell words that set a particular ambiance in the house. A good example is using a sign that spells the word "home" to evoke a warm and welcoming atmosphere. Other words that would look wonderful in neon signs and hang in bedrooms or living rooms are:
Welcome 

Family 

Dream

Positive sayings like "follow your bliss" can be quite motivating.

Hello

Good night, have a good mood, and a good day

Words to your favorite songs
In a similar vein, you may use alternative imagery, such as outlines of the moon.
Add Color to Your Living Room
The current worldwide trend is the use of neon lights in residential areas. Many people prefer choosing white or gray tones when decorating their living room. Multi color neon signs are usually a nice accent if you think the entire scene is too plain for your taste.
You can hang wall decals on an empty wall to add brightness to the space. However, you may also add lights underneath the cabinets to highlight the furniture in the area by illuminating it from below. Neon lights are the epitome of modernity, and they have the power to change the look of your space completely.
Neon Signs for the Bedroom of Your Children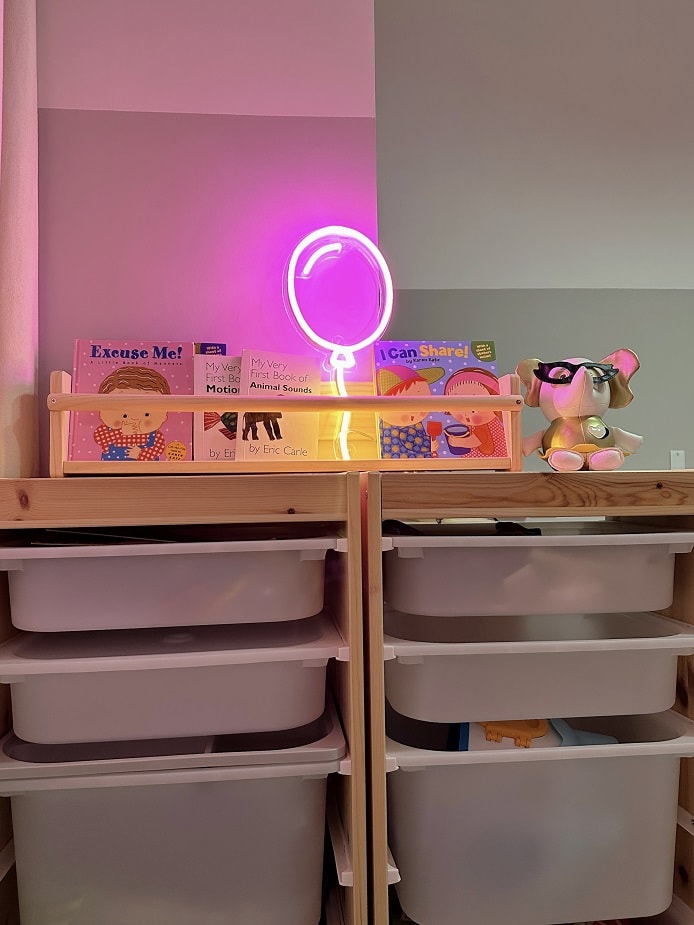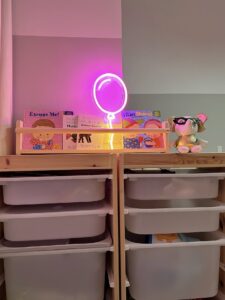 In their bedrooms, your children study, unwind and play. The family's youngest members use it as a do-it-all room, so it makes sense that these areas need special accents. Kids have extremely distinct ideas for their bedroom design, mostly influenced by famous cartoon characters and major movie themes. And our energy-efficient Luffy neon sign is the ideal approach to adorn their rooms.
Neon Superhero Lights
Your kids may have a favorite superhero because there are many intriguing and distinctive ones to choose from. They'll love any excellent bedroom neon lights if they're a lover of superheroes.
Neon Cartoon Sign Themes
Each Child wants their room to be adorned with different themes or styles. And what better way to display their favorite cartoon characters than neon lights?
One of the well-known cartoon characters in the world is the head of the House of Mouse and the whole Disney Company. This well-recognized mouse was the first cartoon character to receive a star on the Hollywood Walk of Fame. Like in your own life, Mickey Mouse is probably a significant part of your children's existence. Purchase him in neon for your children. Your Child's favorite cartoon might not be Mickey Mouse, but you'd know which one it is. Choose the one they love best and make neon signage from Echoneon.
Neon Signs for Your Man Cave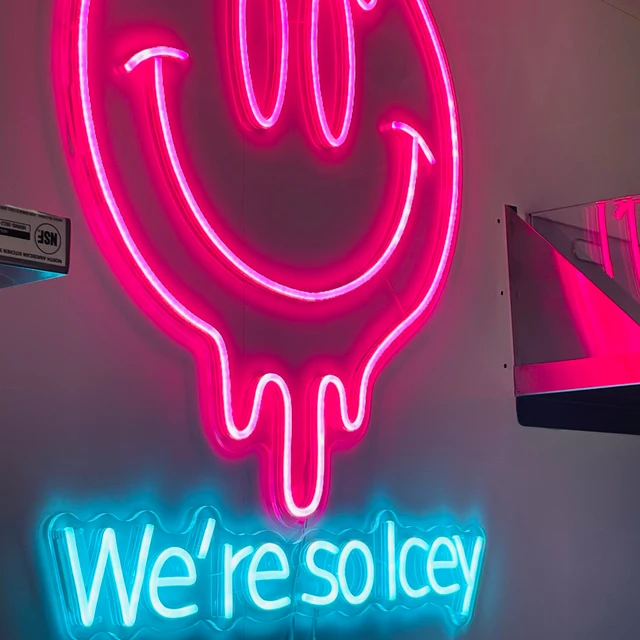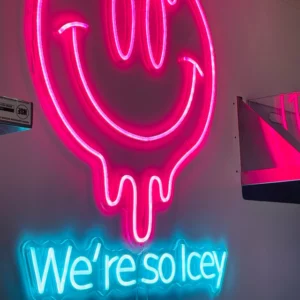 Transform your man cave into a space that truly reflects your energy by incorporating neon signs. These vibrant and iconic light fixtures have become a staple in modern interior design, adding a personalized flair to your living space. Whether you're a sports enthusiast, a movie buff, or a music lover, neon signs offer endless possibilities for showcasing your passions and creating a dynamic atmosphere that is sure to impress.
Showcase Your Interests with Personalized Neon Signs
Your man cave is a reflection of your personality and interests, so why not personalize it with a custom-made neon sign? Consider incorporating your favorite sports team's logo, your initials, or a catchphrase that embodies your unique style. The neon sign can serve as a focal point in the room, drawing attention and setting the tone for the entire space. Whether you opt for a bold and vibrant design or a subtle and elegant one, a personalized neon sign will add a touch of individuality to your man cave.
Embrace Your Passion with Themed Neon Signs
Take your man cave's theme to the next level by incorporating a themed neon sign. If you're a movie buff, consider a neon sign featuring your favorite film quote or iconic movie symbol. Music enthusiasts might opt for a neon sign depicting a guitar or musical notes. The possibilities are endless, allowing you to embrace your passion and create a visually striking environment that reflects your interests. Choose a neon sign that complements the overall aesthetic of your man cave and amplifies the theme you've chosen.
Set the Mood with Creative Neon Lighting
Beyond the traditional neon sign, you can explore creative ways to use neon lighting to set the mood in your man cave. Install neon strip lights along shelves or behind your entertainment center to create a subtle and mesmerizing glow. You can also experiment with different colors to match the ambiance you desire. Dimmer switches can be added to control the intensity of the neon lighting, allowing you to create a relaxed atmosphere for movie nights or a lively setting for game-day gatherings. The combination of creative neon lighting techniques will enhance the overall aesthetic of your man cave and provide a captivating experience for both you and your guests.
Gaming Room Neon Signs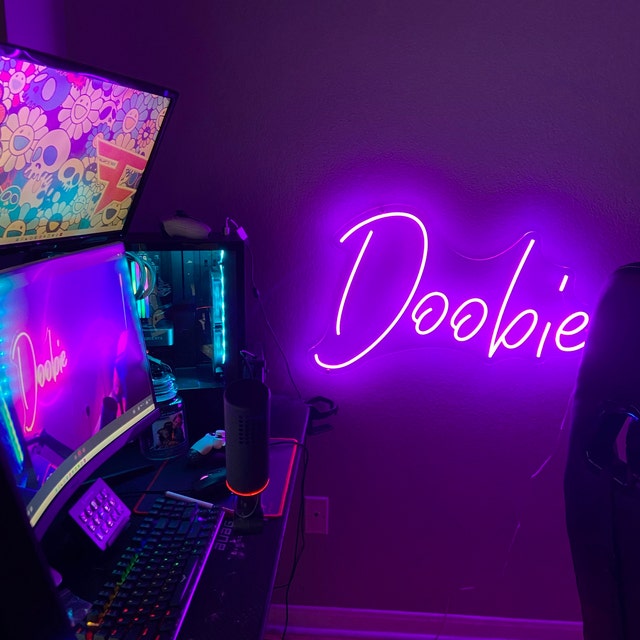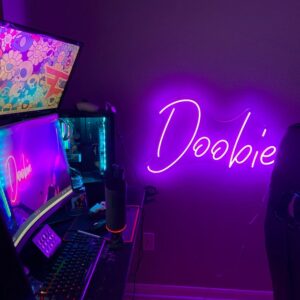 Decorating your gaming room with neon signs is a fantastic way to add a vibrant and electrifying touch to your gaming haven. Whether you're a fan of retro gaming or contemporary titles, incorporating neon signs into your gaming room décor adds a stylish and nostalgic flair. Not only do these luminous artworks serve as eye-catching focal points, but they also provide soft, colorful lighting that sets the mood for intense gaming sessions. With their distinct glow and customizable designs, neon signs offer a unique opportunity to personalize your gaming sanctuary and make it truly one-of-a-kind.
Enhancing the Gaming Atmosphere with Neon Signs:
Neon signs can easily elevate the gaming atmosphere in your gaming room. By strategically placing neon signs in key areas, you can create an immersive environment that enhances your gaming experience. Consider placing neon signs behind your gaming setup to add a vibrant backdrop or around the room to provide subtle, colorful lighting. The soft glow emitted by the neon signs not only creates a visually appealing ambiance but also helps to reduce eye strain during those long gaming sessions. Additionally, you can experiment with different colors and designs to match the mood of your favorite games or to create a specific gaming theme.
DIY Customization and Personalization of Neon Signs:
One of the exciting aspects of decorating your gaming room with neon signs is the opportunity to DIY designs that you want. While there is a vast array of pre-designed neon signs available in the market, you can also explore the option of creating your own unique designs. Many companies offer custom neon sign services, allowing you to bring your imagination to life. You can incorporate your favorite gaming quotes, memorable gaming moments, or even your own gaming tag into the design. By infusing your own creativity into the neon sign selection and design process, you can make your gaming room truly reflective of your individual style and gaming passion.
Incorporating Neon Signs into Gaming Room Themes:
Neon signs provide a wonderful opportunity to incorporate them into specific gaming room themes. Whether you're aiming for a retro arcade vibe or a modern esports-inspired setup, neon signs can play a significant role in bringing your theme to life. For a retro gaming theme, consider classic arcade game logos, pixelated fonts, or neon signs featuring popular arcade game characters. To create a futuristic or cyberpunk ambiance, opt for neon signs with sleek designs, geometric shapes, and vibrant neon colors. If you're a fan of a particular game franchise, explore neon signs that showcase the logo, key characters, or iconic symbols from that game. By aligning your neon sign choices with your chosen gaming room theme, you can achieve a cohesive and visually striking aesthetic that immerses you further into the gaming world.
Why Are Neon Signs Perfect for Home Decor?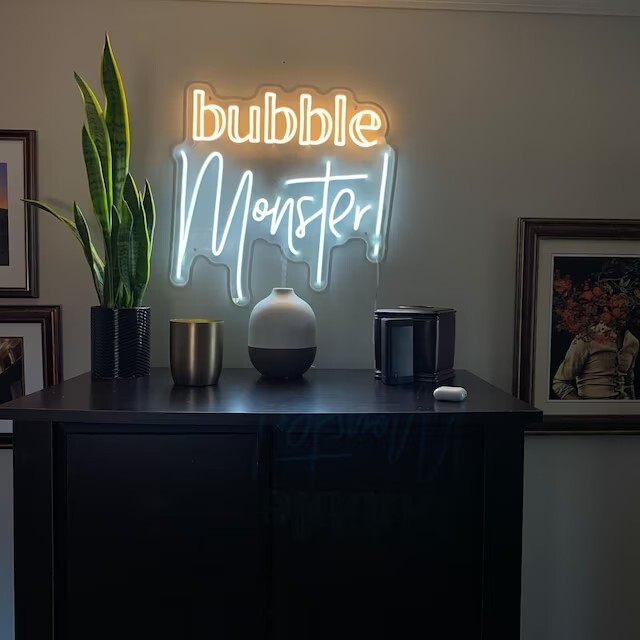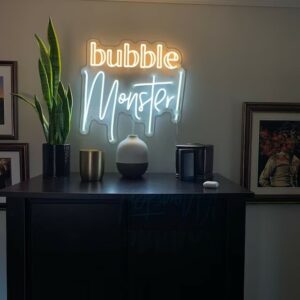 Why Are Neon Signs Perfect for Home Decor?
Neon signs have emerged as a perfect choice for home decor, bringing an irresistible charm and character to any living space. They have the ability to create a captivating visual experience that effortlessly enhances the ambiance of a room. Whether you're aiming for a cozy and intimate atmosphere or a vibrant and energetic space, neon signs offer a versatile solution that can adapt to various home decor styles.
Unique Focal Point
Neon signs are perfect for home decor due to their ability to serve as unique and eye-catching focal points. These luminous artworks effortlessly draw attention and become conversation starters, making a bold statement about your personal taste and style. Whether you opt for a sign displaying a favorite quote, an inspiring word, or a symbol that resonates with you, neon signs reflect your individuality and establish a personal connection within your living space.
Distinctive Lighting Option
Moreover, neon signs offer a distinct lighting option that surpasses traditional fixtures. The soft, warm glow emitted by neon tubes creates a cozy and intimate atmosphere, instantly transforming the mood of a room. Achieving a delicate balance between ample illumination and a relaxed ambiance is crucial. Neon signs effortlessly accomplish this by casting a gentle and enchanting light that is both functional and aesthetically pleasing. This makes them ideal for various areas of the home, including living rooms, bedrooms, home offices, and entertainment spaces.
Versatility in Placement
Another aspect that makes neon signs ideal for home decor is their versatility in terms of placement. They can be mounted on walls, placed on shelves, or even hung from ceilings, adapting to the layout and dimensions of any room. Whether you want to make a bold statement with a large neon sign or add a subtle touch with smaller pieces scattered throughout the space, neon signs effortlessly integrate into existing decor, adding an extra spark of visual interest.
Conclusion
Decorating a room with neon lights offers a captivating and electrifying way to infuse your space with personality, style, and a touch of nostalgia. The allure of neon lights lies in their ability to serve as unique focal points, drawing attention and sparking conversations. They provide a distinctive lighting option, casting a soft and inviting glow that adds warmth and ambiance to your surroundings.
By carefully choosing the right neon sign, strategically placing and arranging it, and properly maintaining it, you can create a living room, gaming room or even a man cave that reflects your individuality.
Ultimately, decorating a room with neon lights allows you to transform your space into a captivating haven that reflects your style and passion. So, let your creativity shine and embark on a journey to create a space that truly stands out with the mesmerizing allure of neon lights.