@Echo Neon | Aug 8, 2022 | 10 minutes read | Wedding, Event, Party
Neon wedding signs are a fun and unique way to add a splash of color and a contemporary vibe to your reception. Neon signs can communicate wedding specifics, such as the date, your hashtag, or your new monogram via neon signs and direct guests and labeling stations. These features, which have made a huge resurgence, are colorful and fun, but they can also serve a practical purpose. They'll illuminate your party in a way that perfectly captures the joyous spirit of your celebration. A neon sign for a wedding hung in an unexpected location is sure to be a conversation starter during your wedding. For instance, consider the Echo neon  "Till Death Do Us Part" light. What more can you do to include them in your event's landscape design? Neon signs for weddings can serve multiple purposes: they can point the way to the ceremony, add flair to the altar, and illuminate the dance floor.  
Custom neon wedding signs are versatile and may be adapted to fit the theme of any major event. You get to pick the size, shape, and color scheme that works best for your party. A white cursive design can liven up a traditional cocktail party, while a pink one can lend a touch of femininity to a more avant-garde bohemian gathering. Best of all, the design-savvy couple may preserve these signs as a memento of their wedding day and display them in their own home.

Exactly Why Should You Buy a Wedding Neon Sign?
Adding a custom neon sign to your special day is a great way to jazz things up and make a statement. You can choose a neon sign that fits your budget among our many options because they are reasonably priced. In pursuit of neon signs, many brides and grooms turn to online marketplaces like eBay or Craigslist. But in choosing the best, try Echo neon because they create:
Reliable Neon Sign for Wedding
Not only are they less durable than our Echo Neon signs because they are made with lesser materials, but we also don't guarantee their performance. Nobody wants their wedding sign to die in the middle of the reception, casting a shadow on the newlyweds and their guests.
Favorite Neon Wedding Sign
If you purchase from us, we'll ensure your wedding guests can read the most brilliant sign designs in the room. You won't have to fret over faulty lighting on your wedding day. They are built to last by utilizing only the best materials available. Our custom wedding neon signs are strong enough to endure pressure and lightweight enough to move easily. They are convenient to move from one point to another.
Creation of a Unique Model
Why not check out our website to learn more about our wedding neon signs? Browse through some of our collections to get an idea of the variety of options we have.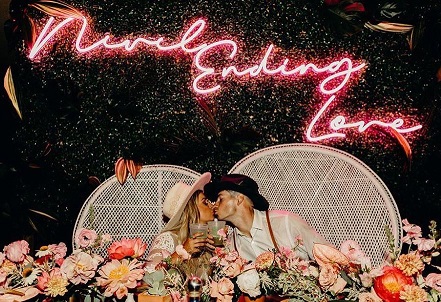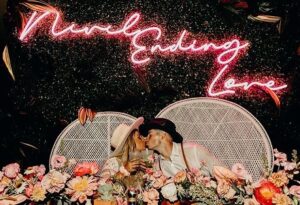 Amaze and Delight Your Guests With Custom Neon Signs During Your Wedding
There are many beautiful pictures available online that might serve as wedding inspiration. They all tend to blend after hours of browsing. Flower arrangements blur together, and table settings appear the same. And there's no shortage of eye-popping color schemes to bore you to tears. Neon signs are an awesome way to make your wedding stand out. This minimal but effective element of wedding decor will continue to shine long after the reception has ended, day or night.
So, how do you personalize your wedding decorations?
Express Yourself
To get your message across, nothing beats a custom wedding neon sign. Include any corny pickup lines your sweetheart may have used to win you over. Next, drop a hint about how you and your partner might have first met. It will be impossible to tear guests away from it. Also, gather around for a photo op of epic proportions. In addition, neon signs that describe your personality traits, such as "party animal," "music lover," etc., are highly recommended.
Make Use of the Hashtag
The Best Wedding Hashtags are a great way to personalize your big day in a way that no other detail can. Have this if you want your socially adept guests to use your hashtag for simple referencing. Having guests use a designated wedding hashtag on social media makes it easier to track the many pictures taken during the reception.
Fun and Romantic Neon Signs for the Big Day
Using a neon sign with a common love expression is a method to make your wedding reception stand out. Then, it not only draws attention to the occasion but also serves as a beautiful setting for your treasured images.
Neon Signs for the Wedding Reception
A neon sign against your reception's black or dark background will create a striking visual effect. As a bonus, it can be a stunning decorative element in your treasured photos.
Brighten Up the Dance Floor
It would help if you had folks to break a sweat and enjoy themselves. Then, entice them to the dance floor with a flashing neon sign. Finally, settle on a catchphrase that resonates with you and unleashes the inner funk you know you have.

Neon Lights/Sign Is the Way to Light Up Your Wedding
In addition to being bright, neon signs also bring a specific feel to your wedding that isn't always simple to deal with. That suggests you shouldn't give them a shot for the big day. Nonetheless, consult with experts before moving forward.
Begin with the Barest Minimum
Large signage can be eye-catching, but you don't have to go out of your way to include them in your design if you're unsure how to pull off the style. Even if you're not completely sold on the trend, a custom neon wedding sign may help you ease into it by adding a splash of color and fun to any room, no matter how little.
Make It Unique
It is recommended to start with what makes you the happiest when selecting or creating a sign. Everyone is urged to use the same method while creating their DIY neon sign for weddings because that is the foundation of our artist collaborations. It's your party; thus, the things inside of it should reflect who you are, whether through a motivational quotation, your favorite colors, or an innovative design.
Approach it artistically
Your custom neon wedding light or sign should be treated as fine art. This entails making sure it stands out because you want people to notice it after all and picking an accent color to harmonize the piece with the rest of the space. Ensure that it also speaks to and creates the emotion you want. If it isn't picked or created entirely at random, it will feel more deliberate, like a painting on your wall.
Select a contrasting color
When coming up with wedding neon sign ideas, you can choose a sign that matches the accent color of the space, but you might want to attempt monochromatic or complementary lighting instead. "For instance, pop a bright blue sign or use a vivid orange or pink if your reception area is decorated in cool grays and blues."
Locate the Proper Place for Neon Sign Placement
Although it may seem like a custom neon wedding sign could be placed anywhere and have an impact, doing so correctly takes skill. Place the neon sign by itself in a serene area or combine it with classic pieces like a collection of oil paintings. And if you wish to stay away from the trendy reception appearance, keeping the sign out of areas that appear too casual will help elevate the aesthetic.

Conclusion
Every wedding needs something unique to set it apart from the others. That characteristic, in our opinion, is a neon wedding sign. Any wedding design, from the contemporary to the traditional, can use neon signs. Place a neon wedding sign near the bar, on the dance floor, or as a backdrop for an eye-catching accent or dazzling photo opportunity. Try a personalized neon wedding sign to give your wedding a more personal touch.